In 1921, the University of Toronto took over ownership and operation of the Toronto Conservatory and its library collection became the basis for the present-day Music Library. In celebration of our 100-year anniversary, we are in the process of featuring 100 items from our library on Instagram and Facebook. All items were selected by current and past library staff. If you missed them on social media, here they are again. To see all items selected thus far, check out the blog series "100 years at the Music Library". To learn more about the past, present, and future of the U of T Music Library, see the series articles written for Open Shelf, the Ontario Library Association (OLA) magazine: "Becoming University of Toronto Music Library."
The following items were selected and curated by Kathleen McMorrow, former head librarian at the Music Library and Trevor Deck, Music & Film Collections Management Librarian.
1970-1972: Syrinx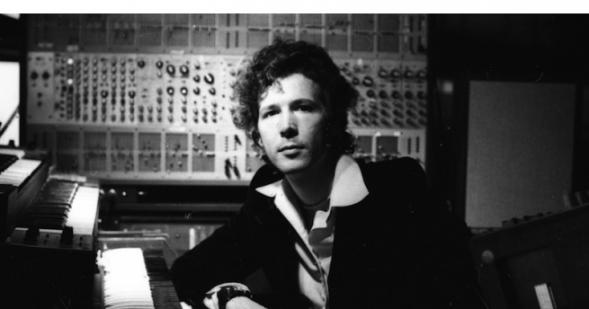 Selected by Trevor Deck
One of many fascinating anecdotes in Jonny Dovercourt's recent, Any Night of the Week: A D.I.Y. History of Toronto Music, 1957-2001, is the story one of the earliest adopters of the Moog synthsizer, John Mills-Cockell, and his seminal electronic/experimental act, Syrinx. While studying music at U of T from 1964-1968, music professor, Myron Schaeffer, invited him to check out his new electronic music studio, which inspired the young composer to buy a pair of used tape decks and an editing block and perform his own pieces at the Mixed Media Concerts organized by Udo Kasemets. After he left U of T to study at the Royal Conservatory of Music, his composition teacher, Dr. Samuel Dolin, asked him and classmate Ann Southam – who would become one of Canada's foremost minimalist composers – to set up an electronic music lab there. Three of the eight students at their first class would go on to become Mills-Cockell's collaborators: Michael Hayden, Blake Parker, and Alan Wells (Dovercourt, 46). 
Mills-Cockell and Alan Wells, along with saxophonist Doug Pringle, would go on to form a progressive music trio called Syrinx. Their music incorporated elements of electronica, classical, world music and psychedelic rock. Syrinx were one of the first acts to be signed to Canadian music executive and talent manager, Bernie Finkelstein's, True North Records. Their debut album in 1970 garnered an enthusiastic response from critics and landed the group an opening spot on Miles Davis' Bitches Brew tour. The group was also commissioned to score works for the National Ballet of Canada and the Toronto Repertory Ensemble, the latter of which was was featured on CBC's national television program, Music to See, in 1971.  
Syrinx gained renewed attention following an appearance on the 2014 modular synthesizer documentary, I Dream of Wires. Much of their discography was also reissued in 2017 as a part of the retrospective album, Tumblers from the Vault, released on Brooklyn label RVNG Intl.
In the library:
Dovercourt, J. (2020). Any Night of the Week: A D.I.Y. History of Toronto Music, 1957-2001. Coach House Books. 
Fantinatto, R., Solvent, Schmidt, P., Reznor, T., Clarke, V., & Waveshaper Media . (2015). I dream of wires. First Run Features.
Syrinx and the Toronto Repertory Ensemble performing Stringspace on the CBC program, Music to See (1971). 
Tumblers from the vault (1970-1972) . (2016). RVNG International.
Image: The Astral Excursions of John Mills-Cockell. (n.d.).  
1971: Stimmung for six vocalists by Karlheinz Stockhausen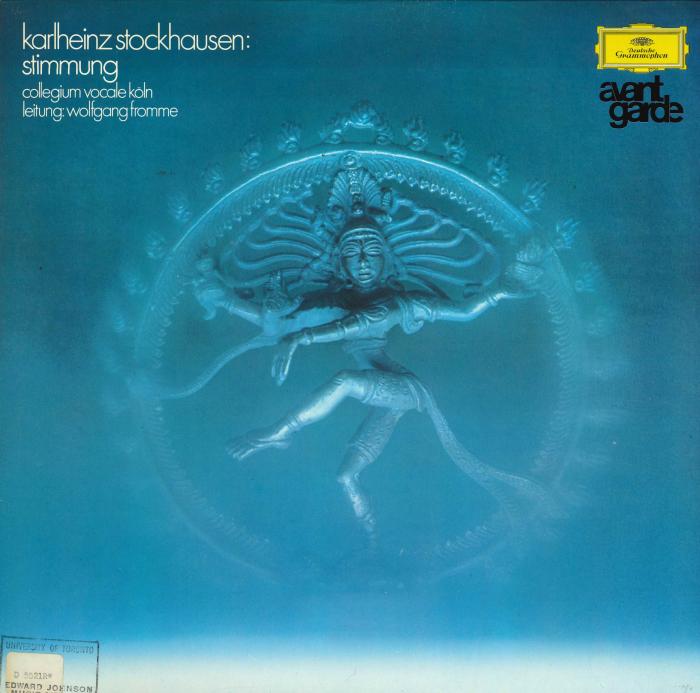 Selected by Kathleen McMorrow
Stimmung for six vocalists by Karlheinz Stockhausen is a 70-minute work based on a single B-flat 9th chord, in which the singers have to emphasize overtones up to the 24th partial. Deutsche Grammophon (for which at one time his recordings reputedly sold more copies than those of any other 20th-century classical composer except Stravinsky) issued this LP in 1970 (available at the Music Library). In December 1971, Stockhausen brought the Cologne Collegium to Canada. Reviews in Toronto newspapers (available from ProQuest Historical Newspapers) of the performance in MacMillan Theatre ranged from puzzled to outraged.
1971: Neil Young
Selected by Trevor Deck
While most of Neil Young's international success took place after he relocated to California in the late 60s, Neil's formative years as a gigging musician in Toronto clearly left an indelible mark. This is not only evident through countless interviews and biographies, but also directly within his music, such as the reference to the Yorkville institution, the Riverboat Coffee House, in the ballad Ambulance Blues, from his 1974 record, On the Beach. A 1969 performance of Neil playing at the Riverboat was released in 2009. Despite a sprawling career that spans more than half a century, the 1970s serve as arguably Neil's most prolific period, recording more than a dozen albums, and establishing himself as one of the premiere folk/rock acts of the era, as evidenced in a pair of legendary hometown performances in Massey Hall in 1971. These stunning solo performances were widely bootlegged for decades until finally receiving an official release in 2007.
In the library:
Zuma (1975) LP available at the Music Library
Live at Massey Hall, 1971 (2009) CD available at the Music Library
Image: Wheeler, Brad. "The Music Dies at the Riverboat." The Globe and Mail, 24 June 2014.
1972: Black Angels by George Crumb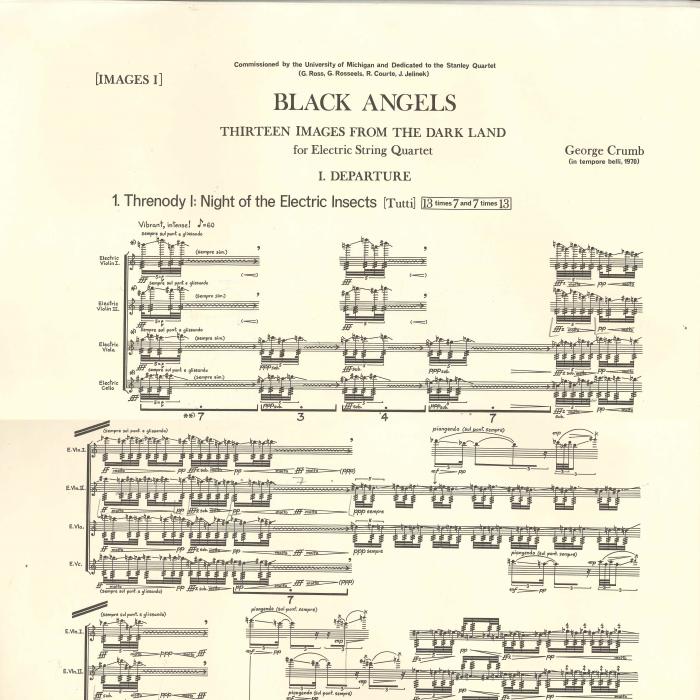 Selected by Kathleen McMorrow
Black Angels: Thirteen Images from the Dark Land by George Crumb is a quartet for electric or amplified strings, using a profusion of instrumental effects. The performers must also manipulate crystal glasses, two suspended tam-tam gongs, and other percussion instruments, and produce various vocal effects. Written in 1970 as a lament for the America of the Vietnam war, it has become, despite its difficulties, part of the standard literature. One of the earliest performances was given at the Faculty in 1972 by the (original) Orford String Quartet, and included a ritual procession with candles and monks' cowls.
In the library:
Program and recording of 1972 performance by the Orford String Quartet
Score
Score also available through Classical Scores Library (online)
1972: Udo Kasemets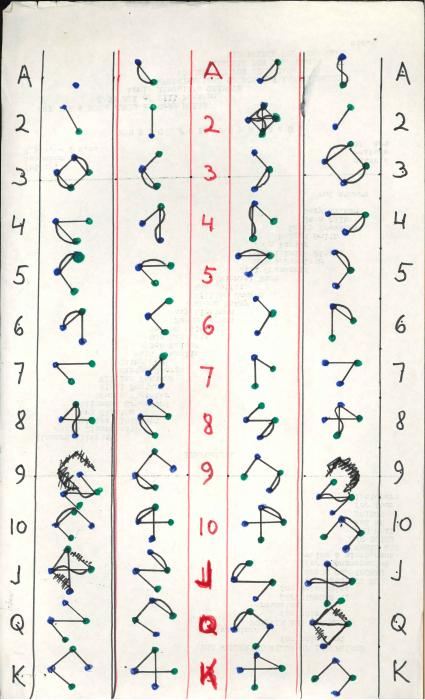 Selected by Kathleen McMorrow
Udo Kasemets, who emigrated to Canada from Estonia in 1951, was one of Cage's most ardent followers. When he discovered Cage's works using chance operations based on the I'Ching, he turned his back on his previous conventional compositions and dedicated himself to composing and bringing avant-garde music to Toronto audiences. In 1972 he wrote Voicemusic for John Cage and Music for everything: a tape work using chance operation with playing cards. His archives, held in the Music Library, were the source materials for Jeremy Strachan's Ph.D. thesis, Music, Communications, Place: Udo Kasemets and Experimentalism in 1960s Toronto, 2015.
In the library:
Read Strachan's thesis
Udo Kasemets archives
1974: Joni Mitchell
Selected by Trevor Deck
The 1960s folk scene in Toronto was a breeding ground for some of the most successful folk acts of the time in North America. Joni Mitchell's open-tuned guitar styling and vocal prowess made her arguably the most unique and original artist to come from the Yorkville scene. While her signature sound is unmistakable, she constantly experimented with new sounds and styles throughout her career. Her landmark 1974 record, Court and Spark, saw her move from a more traditional folk sound, into the jazz and jazz fusion territory that would characterize many of her later works. For an excellent dive into the historical context of this monumental recording, and a comprehensive analysis of the album's rich lyricism, check out Joni Mitchell's Court and Spark (33 1/3, Book 40) by Sean Nelson.
In the library:
Joni Mitchell's Court and Spark (33 1/3, Book 40) by Sean Nelson
Court and Spark (CD)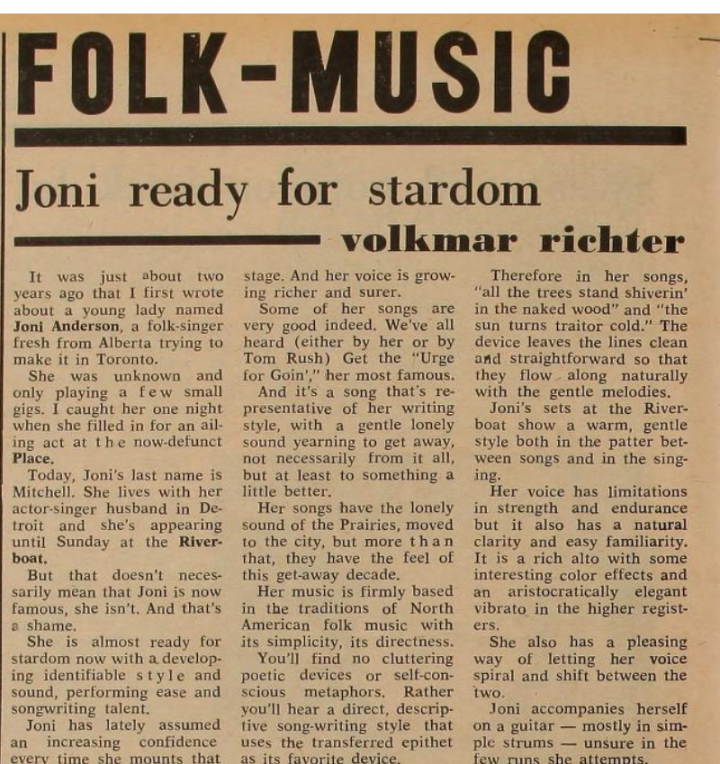 Image: Richter, Volkmar. "Joni Ready for Stardom." The Varsity, 11 Nov. 1966, p. 6. 
1975: Gilberto Gil and Tropicalia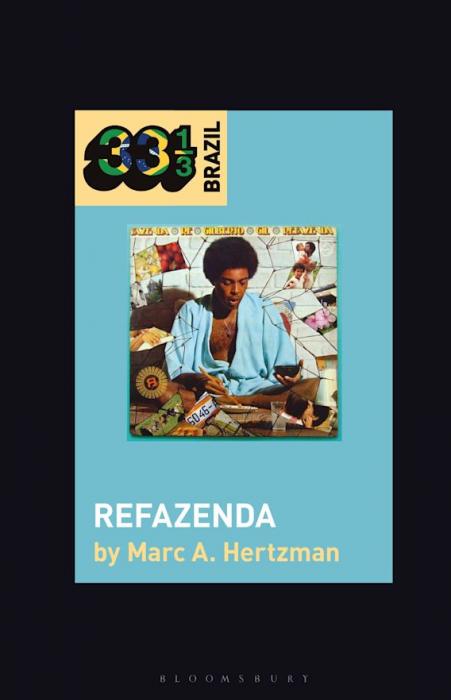 Selected by Trevor Deck
Despite a military dictatorship strictly censoring and repressing creative arts in Brazil, the nation gave rise to a brilliant artistic movement in the 60s known as Tropicalia, which involved blending traditional Brazilian art and music with foreign traditions and styles. While several founding members of the movement were imprisoned and/or exiled by the Brazilian military junta in the late 60s, the influence of the movement lived on throughout the 70s. For instance, you can read about the profound influence of Tropicalia co-founder Gilberto Gil's 1975 album, Refazenda in a new volume from the 33 1/3 series that analyzes the record and its significance. You can also find documentaries about Tropicalia and Gilberto Gil on the U of T-licensed streaming video platform, Qwest TV. 
In the library:
Gilberto Gil's Refazenda
Gilberto Gil: The Power of Music documentary 
Brazil: The Tropicalist Revolution documentary
Image: Bloomsbury.com. "Gilberto Gil's Refazenda." Bloomsbury Publishing. 
1976: Psappha by Iannis Xenakis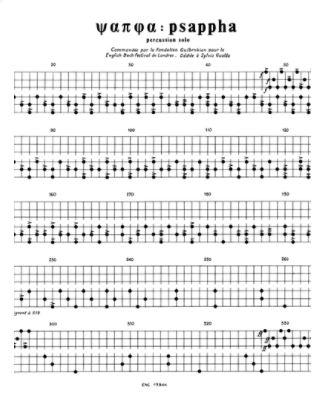 Selected by Kathleen McMorrow
Iannis Xenakis, an engineer, architect, and Greek resistance fighter, was among the composers who revolutionized musical language after World War II.  Psappha is an aggressively loud exercise in virtuosity for a solo percussionist.   Russell Hartenberger performed the Canadian premiere in a New Music Concerts program on December 6, 1976. It is written for six groups of instruments, three of wood and skins and three of metal.  It has an abstract temporal structure, with a metric scheme based on ancient Greek mathematical models and complex rhythms, subject to processes of variations Xenakis called arborescences.  
In the library:
Score, available through Nkoda
NMC program
1979: Roaratorio: an Irish circus on Finnegan's Wake by John Cage
Selected by Kathleen McMorrow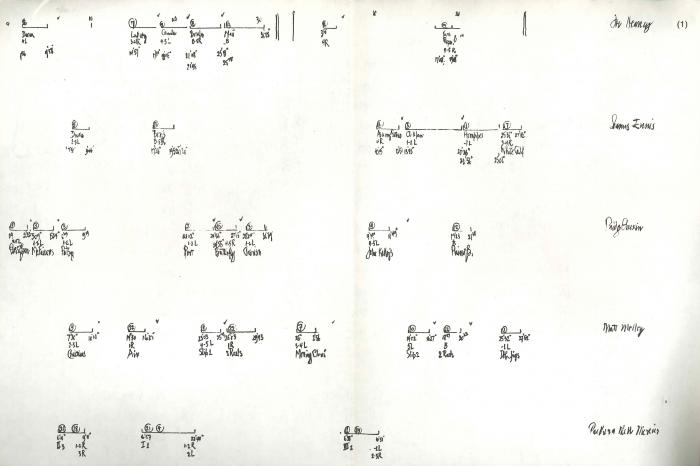 Roaratorio: Irish circus on Finnegan's Wake, for electronic tape and performers, was written in 1979.  John Cage had long been fascinated with James Joyce: here he combined a collage of hundreds of sounds mentioned in Joyce's last novel with a reading of a mesostic text based on Joyce's name, and live performances by Irish folk musicians.  New Music Concerts organized the North American premiere on January 29, 1982, a famously stormy night, at Convocation Hall U of T. 
In the library:
Score
NMC program
1970s: Jackie Mittoo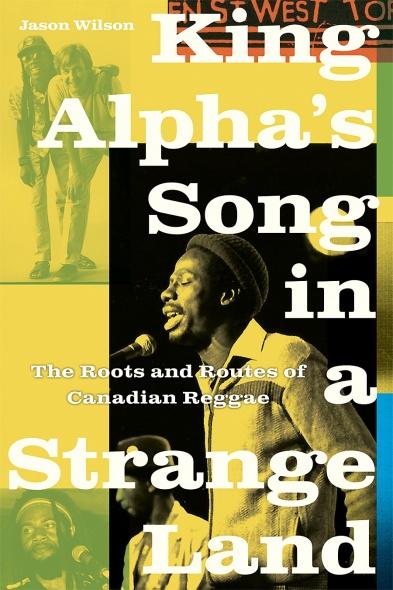 Selected by Trevor Deck
Jackie Mittoo migrated to Toronto from Jamaica in 1969, having previously been a member of the legendary ska band, the Skatalites, as well as musical director of the renowned 'Studio One' recording studio in Kingston, Jamaica. Mittoo's incredible life and career in Toronto are described in two recent publications, Jonny Dovercourt's, Any Night of the Week: A D.I.Y. History of Toronto Music, 1957-2001 and Jason Wilson's King Alpha's song in a strange land: the roots and routes of Canadian reggae. Dovercourt describes Mittoo's experience in early 1970s Toronto as often less than glamourous, including working seven-hour solo performances at Fran's Restaurant at College and Yonge (Dovercourt, 36). Despite many challenges, Mittoo helped to establish a thriving reggae, ska and rocksteady scene in Toronto. In 1974, Mittoo became the unofficial musical director of the first Black-owned studio in the country, Jerry Brown's 'Summer Sounds' studio in Mississauga (Dovercourt, 37). He also operated his own record store in Toronto's Little Jamaica district, in collaboration with Skatalites bandmate, Lord Tanamo, cutting records in both Kingston and Toronto (Wilson, 104).
You can hear Mittoo's music, along with many other incredible musicians who made the move from Jamaica to Toronto in the late 60s/early 70s on Light in the Attic's 2006 fantastic compilation album, Jamaica to Toronto Jamaica to Toronto: Soul, Funk & Reggae 1967–1974.
In the library:
Dovercourt, J. (2020). Any Night of the Week: A D.I.Y. History of Toronto Music, 1957-2001. Coach House Books.
Wilson, J. (2020). King Alpha's song in a strange land : the roots and routes of Canadian reggae. UBC Press.
Jamaica to Toronto : soul funk & Reggae, 1967-1974. (2006). Light In The Attic Records.