In my last post, I shared some open-access resources for digital music scores. As a follow up, I thought it would be helpful to share some strategies for accessing ebooks while our libraries remain closed. Thanks to several wonderful initiatives from the library community in response to ongoing library closures across North America, we temporarily have more access than ever to digitized books. However, navigating this expanded access can be challenging. Below are some tips to help you navigate ebook access in the time of COVID19.
Check the Catalogue
A good place to start is by simply searching our online catalogue. Most of our ebook titles contain catalogue records and should show up in a catalogue search. If the title you are searching for appears in the results, click though to the catalogue record where you will find a URL to access to the eBook.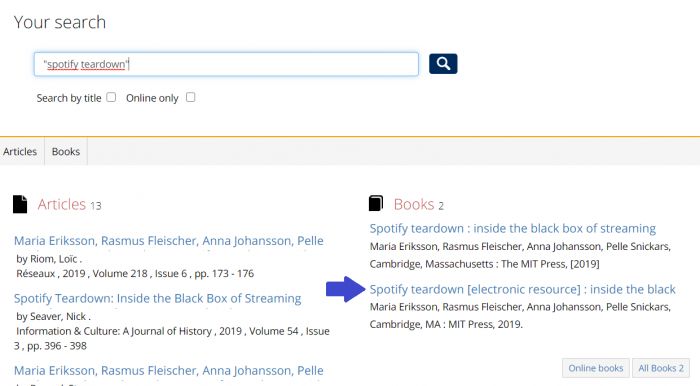 Didn't find what you were looking for? There's a good chance we do not currently own an ebook copy of the title. However, there are some additional options we can explore:
Check the eBook Databases
There are a couple of reasons an ebook may not show up in your initial search:
The title is newly acquired.

There can sometimes be a bit of lag time between an ebook being acquired and it being catalogued (this is because records are automatically imported into our catalogue in batches every of couple weeks).

The publisher may have granted temporary access to the title.

Many publishers have offered expanded access to their ebook databases to help academic libraries cope with the lack of ebook access at this time. These additional titles are only discoverable through ebook databases where the ebooks are hosted.
Based on these two possibilities, searching for an ebook title directly on an ebook database can sometimes yield additional results. Here is a list of all the ebook databases UTL subscribes to.
Many of the databases correspond with specific Publishers. For instance, if we are looking for a title published by Cambridge University Press, the 'Cambridge Core' database would be a good place to search. Another good place to check is ProQuest's 'Ebook Central' database, particularly if you do not see a corresponding ebook database for the publisher of the title in question. This is where the majority of our individual ebook purchases are hosted.
Check HathiTrust Emergency Temporary Access Service and Archive.org National Emergency Library
The University of Toronto is now a participant in the HathiTrust Emergency Temporary Access Service (ETAS). This means that during the U of T library closure due to COVID-19, current students and faculty can read digitized versions of more than 2.5 million of the library's in-copyright print books that have been deposited in the HathiTrust Digital Library.
In addition to the extended access offered by the Hathitrust ETAS, Archive.org has suspended waitlists on all the books in its lending library by creating a National Emergency Library. You can find out more information about this initiative here.
Interlibrary Loan
Try placing an Interlibrary Loan request, and we'll ask for an electronic copy from another library, if available.
Suggest a Purchase
Still unable to find an ebook version of the text you are looking for? Consider suggesting the title for purchase! Below is a link to the purchase suggestion form on the Music Library website, as well as a link to the form for general title suggestions.
Our Collections Department will review your request and respond to you. We are currently trying to accommodate as many ebook requests as possible during the library closure, however please note that many books are either not available as an ebook or are not available for institutional licensing.
You can find further information about how University of Toronto Libraries can help support your online teaching, learning and research here, and as always, please feel free to reach out to our friendly Music Library staff with any questions you may have!