Looking for a recording of that concert you performed in at the Faculty of Music last term? Look no further! The Music Library archives recordings and programs of concerts and other events by faculty members, student ensembles, and guest artists at the Faculty of Music. You can browse the complete collection in the University of Toronto Libraries' archival database, Discover Archives.
The collection features student ensemble and faculty performances as well as recitals, masterclasses, and lectures by visiting artists. It consists of more than 70 years of programs and recordings, dating from 1946 to the present, with the earliest recording dating from December 5, 1965: the University of Toronto Concert Band, conducted by Robert A. Rosevear and Ward K. Cole, assistant conductor.
Accessing recordings
The underlying works captured in the recordings are a mix of public domain and in-copyright materials, so we mediate streaming access. If you would like to listen to your concert from last term, or a concert from 40 years ago, simply send an email to our Music Archivist Rebecca Shaw (r.shaw@utoronto.ca). All events with digital streaming copies available include the following statement in the file description: "For a digital streaming copy of this concert, please contact the Music Library."

Except for events recorded on audio cassette (1983-1999), all recordings in this collection are digitized and readily available for streaming. If you are interested in a recording that is not currently available (e.g., on audio cassette), please let us know! These recordings are digitized on an as-needed basis and are typically available for streaming within 1-2 weeks.
Accessing programs
Wondering what music conductors have programmed over the past 70+ years? All programs (when available and held at the Music Library) are digitized and linked from event descriptions. To view a program for a particular concert or event, simply click on the icon that appears at the top of the description.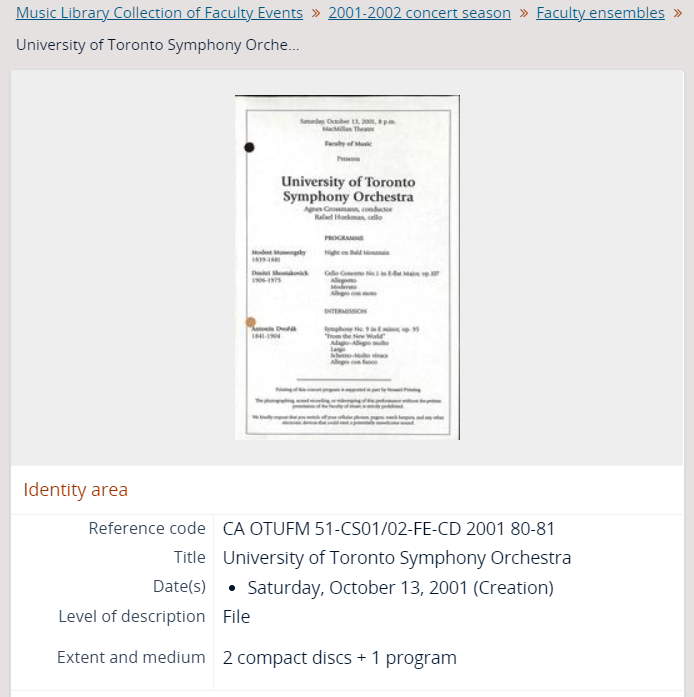 Searching and browsing the collection
Okay, but how do I find the concert that I'm interested in?
Events in this collection are arranged in descending chronological order by concert season (e.g., 2022-2023, 2021-2022, 2020-2021, etc.) and then by type of concert (Faculty ensembles; Faculty and guest artists; Jazz; New Music Festival; Opera division; Student composers; Thursday at noon series; Vocal studies series). To browse the collection, use the hierarchy at the top of the page, and click on any level (Collection-Series-Subseries-File) to read the description.

If you are looking for a particular concert, use the "Quick Search" (found in the left sidebar) or "Advanced search" (accessed via the search bar at the top of the screen).

Because of the size of the collection—remember, we've been collecting recordings since 1965—I find the advanced search most useful. Once in the advanced search, fill out the form: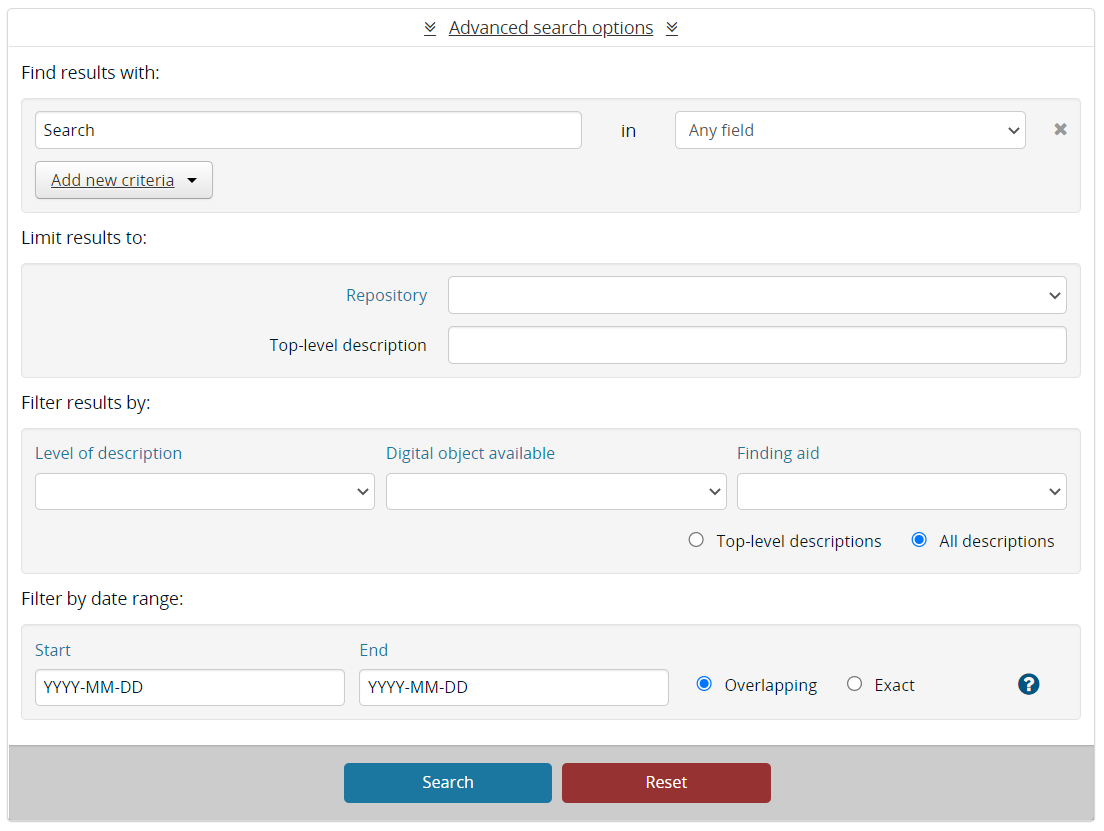 If I was looking for concerts by the University of Toronto Symphony Orchestra (UTSO) since September 2010, my search would look something like this:
"Symphony Orchestra" in Any field

Limit results to, Top-level description: Music Library Collection of Faculty Events

Note: This limits the search to this particular collection; Discover Archives holds descriptions for over 2,400 collections held at 12 different archival repositories across campus.

Level of description: File

Note: This will limit the search to File-level descriptions. In this collection, 1 file = 1 event, concert, lecture, or master class.

Filter by date range: 2010-09-01 [Start date], Type: Exact

Note: This will limit the results to events since September 2010. If I was looking for a particular concert, say the UTSO concert on October 21, 2022, I could enter the exact date (2022-10-21) in both the Start and End date fields to find the concert.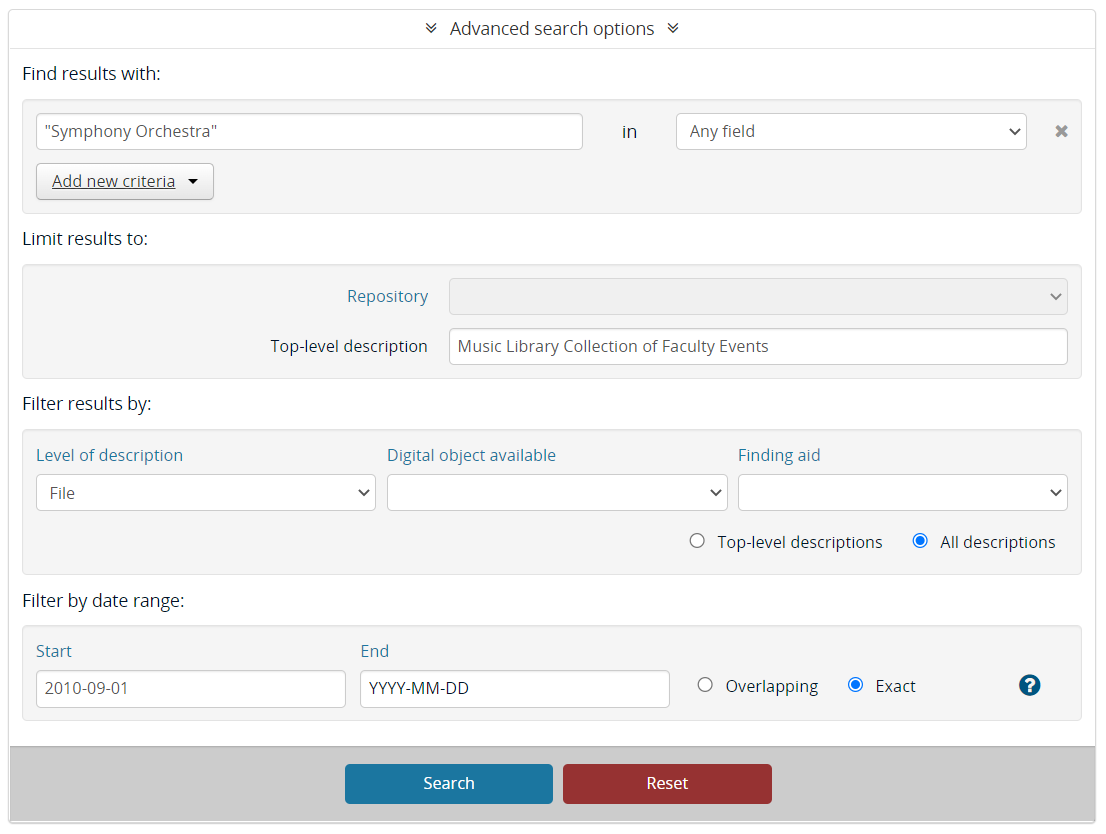 This search returns 70 results. I can then filter the results further using the options on the left sidebar or change the sort order of the results. The results are automatically displayed in descending order of the date the records were last modified. If I select sort by "Start date" in "Ascending" order, I will see a chronological listing of events from UTSO's October 8, 2010 concert onward.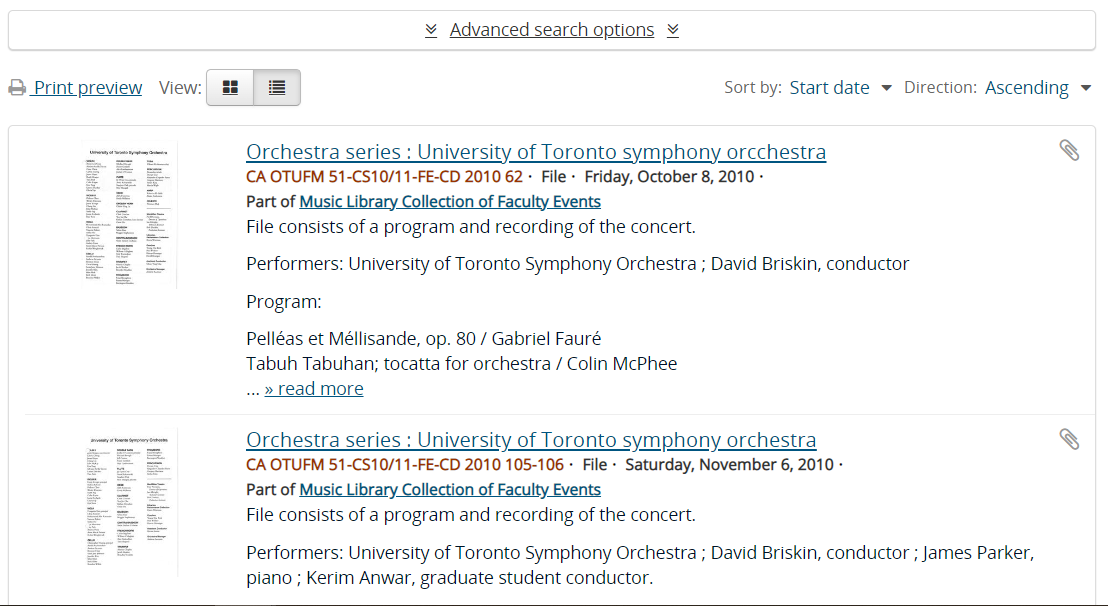 Most of the program information (pieces, composers, ensemble names, conductors, guest artists, soloists) has been entered into the description for each record, so you can also search by composition title, composer, etc.
If you have difficulty navigating the database, have any trouble finding an event, would like to request access to a recording, or have any questions about this collection, please do not hesitate to reach out. Contact Rebecca Shaw, Music Archivist (r.shaw@utoronto.ca).