Celebrate Black History Month with your library at the Black History Edit-a-thon! We live in a world of information, and the knowledge we share matters: it can challenge or uphold the systemic barriers that many in our communities face. This February, we invite you to join your library in making the world of information more inclusive in the Black Histories Edit-a-thon.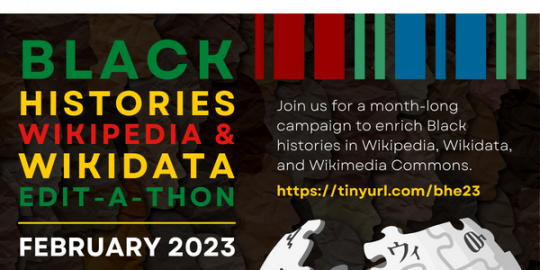 Join us February 8, 1–2:30 p.m. EST for a kick-off panel event featuring: 
Then, every Friday in February, join us for facilitated editing sessions on Zoom: you can learn the basics or get a refresher on editing Wikipedia and Wikidata, then write alongside others who are passionate about improving digital coverage of Black histories and experiences. No prior editing experience is required.
Find out more and register for the kick-off panel and editing sessions via the event page. 
Not sure what to edit? Want to edit music-related pages? Check out this task list of performers, composers and researchers, or browse our Guide to BIPOC musicians and related literature for some inspiration.
This event is organized by U of T Libraries, York University Libraries, Toronto Metropolitan University Libraries, and Toronto Public Library. We look forward to seeing you!