Did you miss all the great costumes at last year's Halloween "Frankenstein!!" concert or Barbara Hannigan's master class with the Contemporary Music Ensemble? Are you a former student reminiscing about your performances at the Faculty of Music in the 80s? Are you simply just looking for recordings of high-quality performances for listening or research purposes? If you answered yes to any of these questions, please check out the Faculty Events database which can be accessed under the list of streaming resources on the music library homepage, for users with valid UTORids.
Although the database initially contained only the most recent faculty recordings dating from 2001-present, the librarians, technicians, and student assistants at the music library have been very busy for the past three years digitizing decades worth of faculty recordings and uploading them to the faculty events database with accompanying program and track information. The process was long and arduous at times, but definitely worth the effort! We began by digitizing recordings from reel-to-reel tapes. Next, all the program information was entered into a computer program to create a digital database of information and digital track listings for each recording. At this point, it was a matter of ensuring that the digitized recordings matched the program information. As many of you likely know from experience, programs change, sometimes even after they are printed! After a year of testing our ability at "name that tune" to make sure each track was matched with the correct title, everything was uploaded to the Faculty Events database and is now available for easy and convenient streaming, regardless of whether you are connecting from on or off campus. The timing could not have been better!
How to access
Once you have accessed the database from the music library homepage (or the link above), you can find the recording of a specific concert by selecting a season, then a series, and then a concert.
Once you have a selected a concert, scroll down the page to view information about the concert, and select "Listen to the recording" to listen to the concert.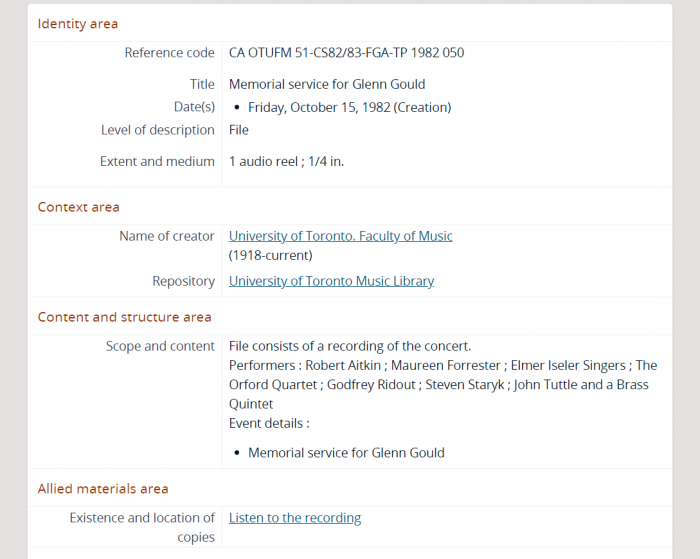 Once you have selected "Listen to the recording" you will see the track listing and you can listen to any individual work that was performed at the concert.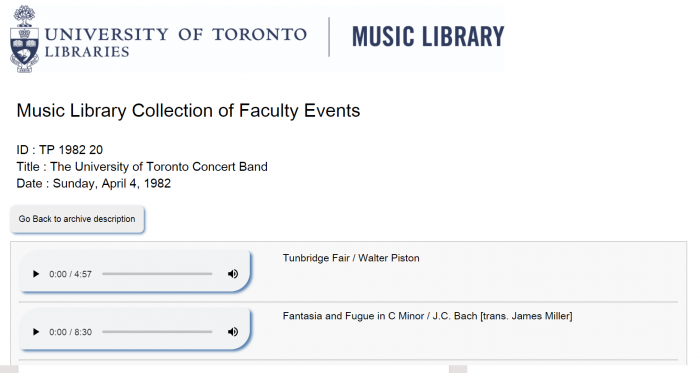 If you have any questions about the Faculty Events database, or need assistance finding a recording of a particular event, please reach out to Rebecca Shaw (r.shaw@utoronto.ca) or James Mason (j.mason@utoronto.ca).