February is Black History Month; an opportunity for us to celebrate the legacy of Black Canadians, past and present. Throughout the month, University of Toronto Libraries, in collaboration with libraries and archives at York University, X University (formerly Ryerson), and Toronto Public Library, are hosting a series of Wikipedia and Wikidata editing sessions to improve and expand coverage of Black history.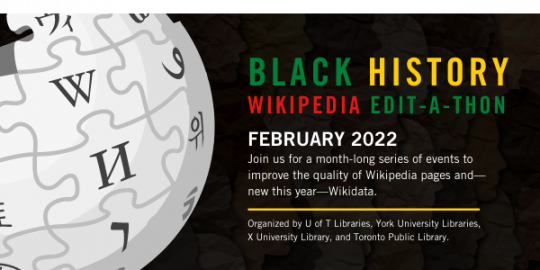 Please join us for the kickoff event and editing sessions:
Kickoff event: February 7, 1-2:30 pm

Panel discussion with speakers Dr. Cheryl Thompson, assistant professor of creative industries (X University) and Collette "Coco" Murray, PhD candidate and African/Caribbean arts-based educator (York University), and moderated by Dr. Mark Campbell, assistant professor of music and culture (UTSC).

Facilitated editing sessions. Training for Wikipedia provided at the beginning of each session. Training for Wikidata provided at the mid-point of each session.

February 4, 1-4 pm
February 11, 10am-1pm
February 18, 1-4pm
February 25, 10am-1pm
This event is open to anyone who would like to help grow the sum of fair, dignified, and gender-inclusive Black histories on Wikipedia/Wikidata. All levels of skill are welcome. Each session is facilitated and includes training for those who are unfamiliar with Wikipedia/Wikidata editing (or those who need a refresher).
Register here for any or all of the above sessions. You will receive a Zoom link to join. Various Music Library staff will be in attendance at the February 11 session. Come help us improve music-specific pages!
Black musicians, composers and music scholars have made a massive contribution to music culture in Canada and abroad. This edit-a-thon will be a fun and educational exploration of the presence of Black musicians in Wikipedia, with the goal of improving the content by adding citations, filling in biographical information, adding to or creating worklists, and even authoring new articles!
Need some suggestions to help get you started? Check out these tables of performers, composers, and researchers.
Any questions? Email us at j.mason@utoronto.ca or r.shaw@utoronto.ca.