The Toronto-based performing arts organization New Music Concerts (NMC) is celebrating its 50th anniversary season this year. Their administrative archives (1971-1998) are held at the Music Library and in celebration of their 50th year, we have digitized the programs and season brochures from this collection. These are now available to browse online. These programs capture NMC's significant contribution to new music—locally and internationally—through performances, commissions, and an extensive list of visiting composers and musicians.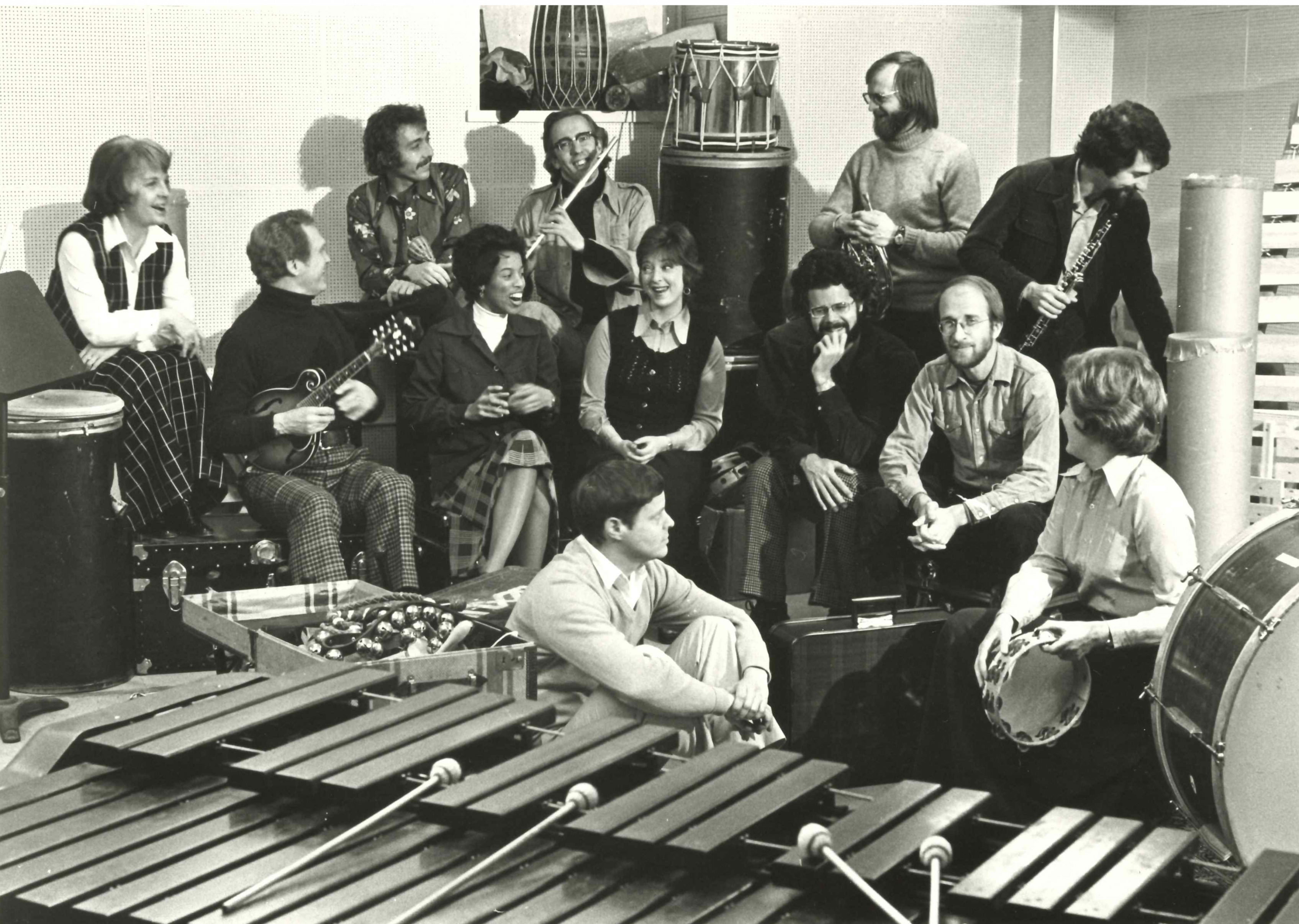 Norma Beecroft (president) and Robert Aitken (artistic director) established NMC in 1971, and produced 6 concerts during their first season (1971-1972). Although newspaper articles leading up to the first concert were somewhat skeptical of its potential success, the first concert on January 6, 1972 featuring Luciano Berio was extremely well attended. The following day, music critic William Littler of the Toronto Star wrote:
"That shop-worn question, 'is there an audience for contemporary music?' received an affirmative answer last night when Luciano Berio appeared on the stage of the Edward Johnson Building's concert hall. Italy's best-known modern composer was greeted by a nearly full house….Toronto's New Music Concerts could hardly have begun more enticingly."
Since then, NMC has continued to promote and provide opportunities for the performance of recently-composed and never-before-heard music. They are now one of the longest-running arts organizations in Canada dedicated to contemporary art music, second only to the Société de musique contemporaine du Québec (est. 1966).
In their first decade, NMC commissioned 7 new works with support from the Canada Council and Ontario Arts Council, and performed no less than 57 world premieres and 64 Canadian premieres, including world premieres of Zen, Yeats, and Emily Dickinson by Harry Somers (March 8, 1975); Byrce by Toru Takemitsu (March 20, 1976); and The Crown of Ariadne (March 3, 1979) by R. Murray Schafer (March 3, 1979). 
NMC has hosted a remarkable array of international composers and musicians over the past 50 years, including Arne Nordheim, Les Percussions de Strasbourg, Contemporary Music Orchestra of Paris, George Crumb, Lukas Foss, Peter Maxwell Davies, Iannis Xenakis, Elliott Carter, Leo Brouwer, György Ligeti, Karlheinz Stockhausen, John Beckwith, Philip Glass Ensemble, Witold Lutoslawski, R. Murray Schafer, Betsy Jolas, Toru Takemitsu, Micheline Coulombe Saint-Marcoux, Harry Freedman, Luciano Berio, Vinko Globokar, Iannis Xenakis, John Adams, John Cage, Sylvano Bussotti, and many more.
Learn more about NMC and their contributions to new music in Toronto and beyond by exploring the online finding aid and digital collection of programs. You can also borrow their self-titled CD (released for their 20th anniversary season in 1990) from the Music Library (CD 8651).
To keep up-to-date with New Music Concerts, check out their website and YouTube channel.