I am very pleased to announce University of Toronto Libraries now offers institutional access to a new digital music score platform called nKoda. This platform offers access to tens of thousands of scores from over 100 publishers, including the likes of Boosey & Hawkes, Bärenreiter, Breitkopf & Härtel and Ricordi.

All content is accessible exclusively within the nKoda app, available for iOS, Android, MacOS and Windows. We hope to be able to add catalogue records for nKoda e-scores in the near future, so that they are discoverable within our online catalogue, but for now browsing and searching is limited to within the app or on nKoda.com (the app is required to open scores). The nKoda app contains many useful features, including the ability to save and share your own annotations, upload your own PDF scores, and download scores for offline access. Perhaps my favourite feature is the ability to save multiple annotations for the same score so you could, for example, save one copy for practice, and perhaps a cleaner version for performance and yet another for teaching purposes.
For a full demonstration of the nKoda platform, check out this recent session from the Major Orchestra Librarians' Association Conference 2020.
Login Instructions for nKoda
Begin by downloading the nKoda app (available for iOS, Android, MacOS and Windows), then open the app and click the 'Institution' login button.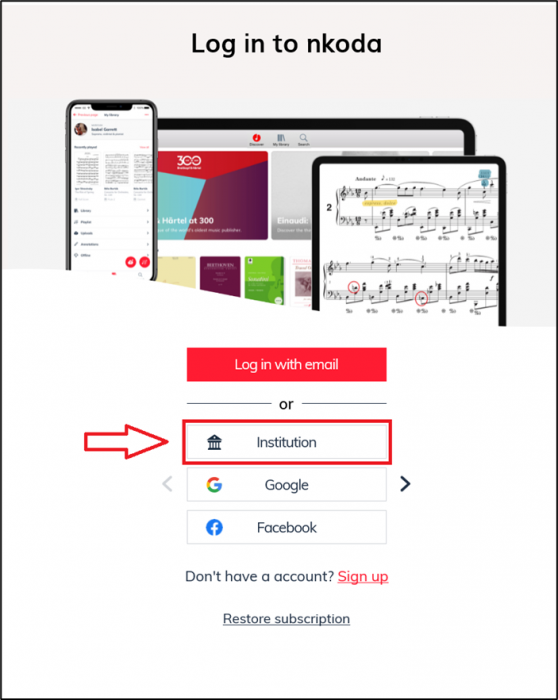 Search for 'University of Toronto' and select it.
You should be redirected to a UTORid login page. Enter your credentials and continue.
If this is your first time logging in, you will be asked to enter your name and email to create an account. If you experience an error saying 'an account already exists' (this may be the case if you created an account during our trial period), either try a different email, or contact support@nkoda.com to have your account reset. 
Finally, you should see the confirmation prompt below:
Once successfully connected, you should see a green banner at the top of the screen that reads "You are signed in as a member of University of Toronto".
Here are some video tutorials to help you get acquainted with the nKoda interface:
If you have any questions or feedback, please don't hesitate to contact me at trevor.deck@utoronto.ca.