With a new school year upon us, and one where digital access to library resources is more important than ever, this blog provides an overview of University of Toronto Libraries (UTL) licensed e-resources that offer electronic access to audio and video:
Naxos Music Library is the most comprehensive collection of classical music available online, offering over 2,392,400 tracks of Classical, Jazz, World, Folk and Chinese music. It includes the complete coverage of recordings from labels BIS, Chandos, Hänssler, Hungaroton, Marco Polo, Naxos, Ondine and selected titles of other leading independent labels, with over 1,000 albums added monthly.
While Naxos Music Library is accessible in a browser-friendly format, it also offers a mobile app that allows you to download music for offline use and listen on the go, as well as the ability to create and share playlists.
Naxos recently updated their user interface, so if it looks a bit different than you're used to, here is a video that highlights some of the changes in the new interface (additional video tutorials can be found on Naxos' YouTube channel).
The Berliner Philharmoniker Digital Concert Hall features digital access to an extensive collection of over 600 concerts spanning more than ten seasons, as well as documentaries on the history of the orchestra and portraits of conductors and orchestra members.
To access concert videos, you can either:
Select 'Direct Access' and watch videos in your web browser.
Select 'Sign up or Login'. By creating an account you will have access to the catalogue of concert videos from any device, on or off-campus.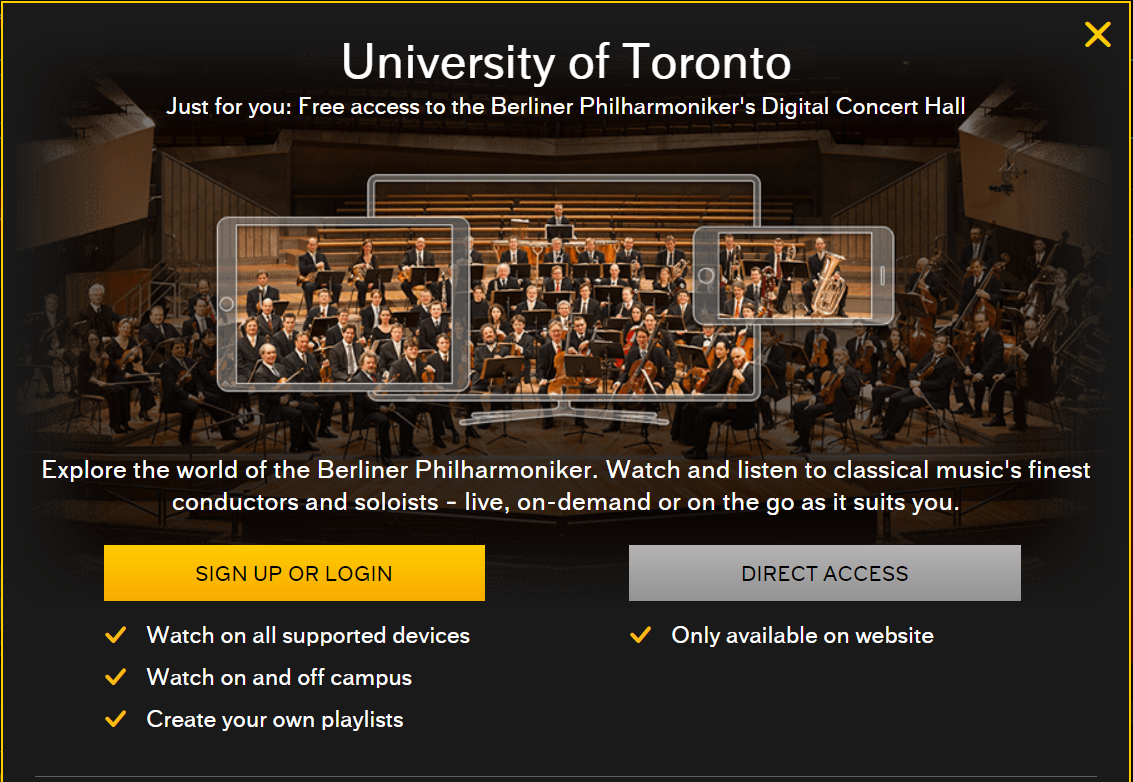 In addition to the incredible collection of archived performances, Berliner Philharmonker Digital Concert Hall also features live streams of the current season's performances. You can find the list of upcoming performances here.
This platform offers an impressive library of over 2,000 programs, including many recent concerts and archived historical concerts, operas, ballets, documentaries, artist portraits, educational programs and master classes.
In addition to this rich on-demand collection of music-related video content, more than 150 live events are broadcast on Medici.tv each year, in partnership with some of the world's most prestigious venues, opera houses, festivals and competitions, such as the Berliner Philharmoniker, London Symphony Orchestra, Mariinsky Theatre Symphony Orchestra, New York Philharmonic, Royal Concertgebouw Orchestra, Carnegie Hall, Bolshoi Theater and many more.
Alexander Street Press is a massive database of online videos, consisting of over 197,000 titles, categorized into many different collections. Particularly relevant from a music perspective are the 'Opera in Video' and 'Classical Music in Video' collections, which offer 1,600+ performances in video, including 200+ full operas, 1,200+ dance titles, masterclasses, documentaries and interviews.
While the primary focus of this platform is British theatre, Digital Theatre+ offers an extensive collection of filmed stage theatrical productions and musical performances from around the world, including performances by the London Symphony Orchestra and current Broadway productions.
A comprehensive archival database of U of T Music Faculty Recordings from 1972-present, currently consisting of 458 audio reels, 1648 compact discs, 687 WAV files, as well as numerous audio cassettes and video files. Music Library staff have been working diligently to digitize archival tapes to increase the number of performances available for online streaming.
These platforms demonstrate the vast collection of music-related digital A/V material available to the U of T community. If you have any questions in regard to accessing or navigating any of these resources, please feel free to reach out to Music Library Staff.
For a full list of digital media streaming platforms available through University of Toronto Libraries, please visit the Streaming Video page on the Media Commons site. You can also find shortcuts to these resources on the Music Library site here.