Music is power. It has the ability to carefully craft and transmit a subtle nonverbal message subversively such as Giuseppe Verdi's nostalgic invocation of nation through "va pensiero" in Nabucco. Other times, the message is loud and in your face like N.W.A.'s second album Straight Outta Compton or Russian punk band Pussy Riot and their performance of "Virgin Mary, Redeem Us of Putin." It can look like Woody Guthrie making a statement against fascism with some paint and his guitar, or Buffy St. Marie transforming a colonial anthem into a protest against settler colonialism. 
This ability to transmit ideas, arguments, and histories subtly and instantaneously to the audience makes music a powerful tool for engaging and rallying the audience around a specific cause. Our newest exhibit in the music library examines how music provides a powerful tool for social change by exploring resistance, protest, and struggle. This post highlights a few items in the exhibit.
Listen to the accompanying Naxos Playlist.
A Song to Save the Salish Sea: Musical Performance as Environmental Activism by Mark Pedelty
Call Number: ML3799.3 .P44 2016X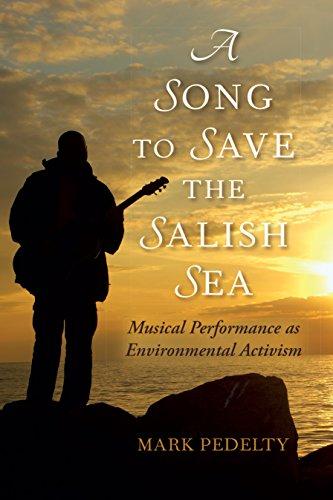 In this book, Mark Pedelty explores Cascadia's vibrant eco-musical community in order to understand how environmentalist music imagines, and perhaps even creates, a more sustainable conception of place. Highlighting the music and environmental work of such various groups as Dana Lyons, the Raging Grannies, Idle No More, Towers and Trees, and Irthlingz, among others, Pedelty examines the divergent strategies—musical, organizational, and technological—used by each musical group to reach different audiences and to mobilize action. He concludes with a discussion of "applied ecomusicology," considering ways this book might be of use to activists and musicians at the community level, and encourages people to live a more sustainable lifestyle through the active reduction of their carbon footprint. 
The Raging Grannies Songbook by Jean McLaren, Heide Brown, and The Raging Grannies
Call Number: M1977 .P75 R3 1991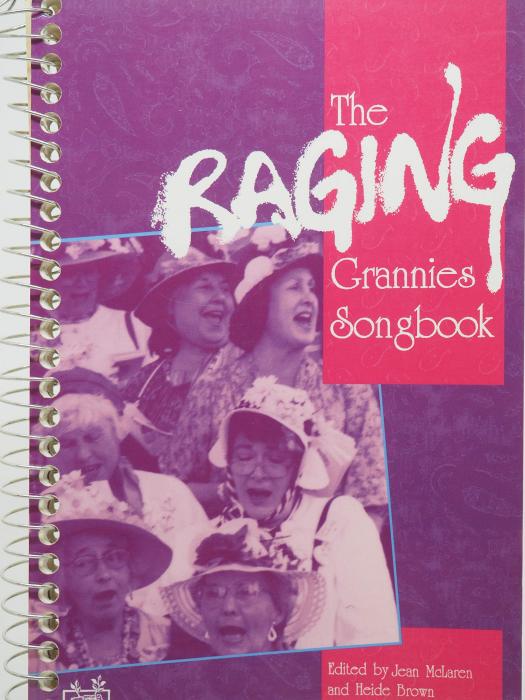 The Raging Grannies (or just "Raging Grannies") are activist organizations in many cities and towns in Canada, the United States, and in other countries. They are social justice activists, all women old enough to be grandmothers, who dress up in clothes that mock stereotypes of older women, and sing songs at protests. They typically write the lyrics themselves, putting their political messages to the tunes of well-known songs. Their activism includes peace and environmental causes. 
The humour and parody that make up the Grannies' tongue in cheek style is often found in protest music, and activism has been credited with the revival of carnivalesque traditions, with campaigners non-violently protesting with parody, general nudity, or costuming and masks. One of the most effective forms of human communication, humor, often appears in political music as a tool to defuse tensions that often prevent the discussion of serious topics, allowing artists to challenge societal incongruities and diffusing it with new perceptions and attitudes. 
My Voice is My Weapon by David A. McDonald
Call Number: ML3754.5 .M33 2013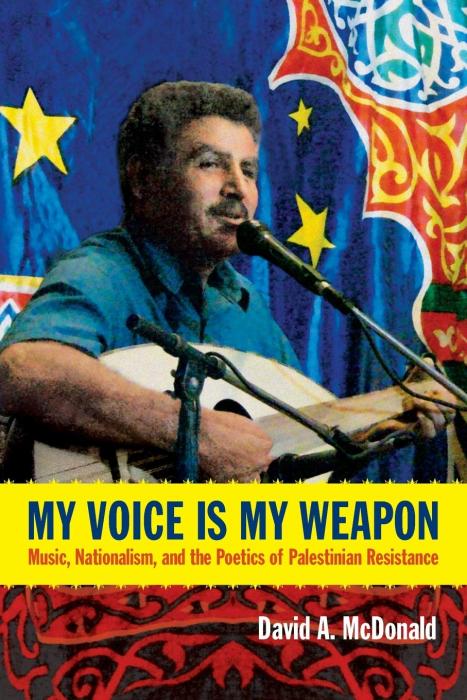 In this book, author David A. McDonald rethinks the conventional history of the Palestinian crisis through an ethnographic analysis of music and musicians, protest songs, and popular culture. McDonald examines the shifting politics of music in its capacity to both reflect and shape fundamental aspects of national identity. Drawing case studies from Palestinian communities in Israel, in exile, and under occupation, McDonald grapples with the theoretical and methodological challenges of tracing "resistance" in the popular imagination, attempting to reveal the nuanced ways in which Palestinians have confronted and opposed the traumas of foreign occupation. 
The song "Mama, I Fell in Love with a Jew," by the Palestinian hip hop group DAM (Da Arabian MCs) offers a unique perspective from which to analyze Palestinian hip hop and opens a discourse about the intersections of global hip hop, politics, protest, and humor. Throughout the song DAM addresses social and racial prejudices against the minority Palestinian Israeli citizenry, by poking fun at both Jewish and Arab stereotypes. They also combine shared cultural history and past atrocities with sexual innuendos and irreverent hip hop phrases in such a way that on the surface the song seems a lighthearted and non-threatening jab at Israeli-Palestinian relations. By doing so, DAM acknowledges each party's perceptions of the other and defuses the biases, creating room for a profoundly meaningful critique of the larger socio-political issues.
Due to popular music genres' ability to transmit cultural concepts, as well as its rootedness in the local politics of power, it is unsurprising that rap music has become a favored vehicle for the transmission of political agendas and ideologies. As a mask, hip hop blurs the threshold of what is true and false and enables artists to present to the audience a persona that meets style convention and expectations. This unique facet gives members extended freedom of speech and continues to make the genre an effective medium for social protest around the world. Adding the element of humor allows the political envelope to be pushed even further under the façade of a joke. By parodying painful racial, gender, and class stereotypes, artists reclaim their identity and further subvert prejudices against them. This case study challenges the notion of what protest music looks like and explores how one genre of music can be transposed globally and across cultural contexts to promote change through social protest. 
Want more protest music? Check out these resources or visit the exhibit! 
"Protest and Music" by Sumangala Damodaran, in Oxford Music Online
Songs of Struggle and Protest (1986) by John McDonnell [M1977 .P75 S65]
Sound System: The Political Power of Music (2017) by Dave Randall [ML3916 .R36 2017Y]
33 Revolutions per Minute: A History of Protest Songs, from Billie Holiday to Green Day (2015) Dorian Lynskey [ML3780 .L97 2011X]
Tyranny and Music (2018) Joseph E. Morgan & Gregory N. Reish ed. [ML3916 .T97 2018Y]
A Queerly Joyful Noise: Choral Musicking for Social Justice (2017) Julia Balén [ML3917.U6 B35 2017X]
Explore the collection! The library has a huge collection both online and in person. Explore and see what other intersections of music, politics, and protest you can find!