Check out this week's list of new scores and our weekly highlights list of new books. Our weekly highlights are showcased in our New Arrivals display in the library and is refreshed weekly.
Jump to the complete list of new scores and eBooks.
Weekly highlights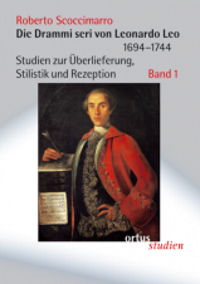 Scoccimarro, Roberto. 2020. Die Drammi seri von Leonardo Leo (1694-1744). Beeskow: Ortus Musikverlag. [ML410 .L5 S373 2020]
Leonardo Leo's (1694-1744) career as an opera composer started in 1714, the year of the premiere of his first opera Pisistrato, and continued until 1744, in which his last opera seria Vologeso was written. He worked in a time, in which the musical language of the late baroque gradually changed to the 'early gallant' style. Born in Puglia and educated in Naples, the Composer reacted with the highest sensitivity to this process of change within the musical culture, compared to his contemporaries but in a very individual way. While composers like Leonardo Vinci or Giovanni Battista Pergolesi have completely adopted the new style Leo also integrated older style features into this new style. In the panorama of the 'Neapolitan School' Leo's Drammi seri are fascinating 'hybrids'. To get closer to this special stylistic position of the composer are discussed in this book on the basis of philological studies analysed eight of the 27 complete operas that have survived. Questions concerning the conception and structure of his arias, the comparison of different versions of his works of the compositional process, the phenomenon of self-borrowing and the analysis of the dramaturgy of Leo's stage works. The additionally won philological results are published in a directory of Leos Drammi seri as well as documented in an aria catalogue.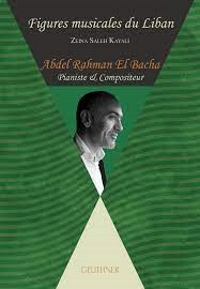 Kayali, Zeina Saleh, and Michaël Sebaoun. 2020. Abdel Rahman El Bacha : pianiste & compositeur. Paris: Geuthner. [ML417 .E533 K39 2020]
Figures musicales du Liban est une collection dont le but est de faire connaitre le patrimoine musical libanais des 20e et 21e siecles. Toute personne ayant contribue par son travail ou sa passion a apporter une pierre a l'edifice encore fragile des musiques savantes libanaises peut y trouver sa place. Aux couleurs de l'ame libanaise, tantot d'Orient ou d'Occident, pont entre les cultures, le patrimoine musical libanais trouve ici un ecrin qui lui donne, aupres des Libanais ainsi que des melomanes en general, la visibilite qu'il merite. Zeina Saleh Kayali s'attache depuis de nombreuses annees a faire connaitre le patrimoine musical libanais. Chargee de mission a la Delegation du Liban aupres de l'UNESCO et vice-presidente du Centre du Patrimoine Musical Libanais (CPML - Espace Robert Matta), elle a fonde et dirige cette collection. Abdel Rahman El Bacha (ne en 1958) est l'immense pianiste que tout le monde connait, le plus jeune laureat du Concours Reine Elisabeth de Belgique et l'interprete privilegie de Beethoven et Chopin. Ce qui se sait beaucoup moins, c'est qu'il est egalement un compositeur dont l'uvre attachante vaut la peine d'etre decouverte. Ayant grandi dans une atmosphere plutot propice a la musique orientale, il s'est propulse au plus haut sommet de la musique occidentale.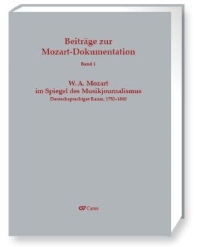 Neumayr, Eva, Armin Brinzing, and Till Reininghaus. 2021. Der "Mozart-Nachlass" : Musikalien aus dem Besitz der Söhne W.A. Mozarts in Salzburg. Leinfelden-Echterdingen: Carus 24.153. [ML410 .M9 N4944 2021]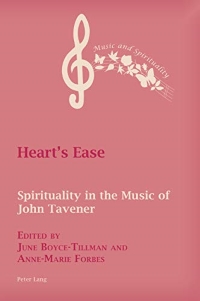 Boyce-Tillman, June, and Anne-Marie Forbes. 2020. Heart's Ease : Spirituality in the Music of John Tavener. Edited by June Boyce-Tillman and Anne-Marie Forbes. New York: Peter Lang. [ML410 .T186 H43 2020]
Our age owes Sir John Tavener deep gratitude. His works cross both cultural and disciplinary boundaries. He illustrated how to deal with intense suffering and felt deeply for the suffering of the world. He stands as an icon representing a view of artistic expression as a way of generating hope and transcendence. In Tavener's thinking, spirituality was closely tied to wellbeing and healing and this book considers thespiritual encounters that brought him 'heart's ease' and the communication of that experience to performers and listeners through his composition. The contributors to this book include scholars, musicians, theologians, medical practitioners, informed listeners and practitioners in religious traditions. It includes case study material, empirical studies, philosophical, theological and theoretical contributions along with accounts from lived experience of the spirituality generated by Tavener's music. This is set in the context of a world that sees spirituality sometimes coupled and sometimes uncoupled from religion. The pattern of the book is an alternation between interludes and chapters illuminating different facets of the crystal of Tavener's creative work and the spirituality and 'heart's ease' it can offer.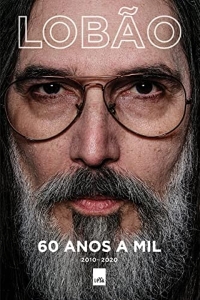 Lobão. 2020. 60 anos a mil : 2010-2020. 1a edição. São Paulo, SP: Leya. [ML420 .L833 A3 2020]
Lobão escreve a segunda parte de sua autobiografia, narrando todos os detalhes de seu intenso percurso na última década – período em que produziu muito, renovou polêmicas, inspirou ações e provocou reações No fim de 2010, o cantor, compositor e multi-instrumentista Lobão publicava sua explosiva autobiografia, o best-seller 50 anos a mil. Agora, dez anos depois, ele brinda os leitores com a segunda parte (e igualmente explosiva) de sua história, incluindo as novas brigas em que se envolveu, suas criações artísticas mais recentes e as turbulências pelas quais o Brasil passou na última década. Com 60 anos a mil, Lobão se afirma como um "autor rock'n'roll", nos entregando, nesta quinta obra, uma narrativa intensa e corajosa. Muito pode ser dito sobre ele, mas ele jamais poderá ser acusado de omissão: neste inédito, Lobão se dedica, inclusive, a dividir com o público razões e decepções de suas escolhas, convicções e revisões. Polêmicas e polêmicas, mas, como na capa, desde 50 anos a mil, Lobão sempre se apresenta de frente – dando a cara a tapa.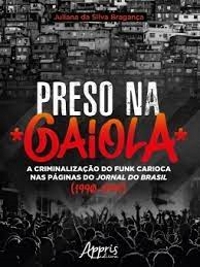 Bragança, Juliana da Silva, and Adriana Facina. 2020. Preso na gaiola : a criminalização do funk carioca nas páginas do Jornal do Brasil (1990-1999). 1a edição. Curitiba: Appris Editora. [ML3527.8 B725 2020]
O livro Preso na gaiola: a criminalização do funk carioca nas páginas do Jornal do Brasil (1990-1999) surgiu a partir da observação da perseguição contra o funk carioca, desenvolvida ao longo da década de 1990 e intensificada nos anos 2000. Este livro tem por objetivo principal encontrar explicações para a criminalização do movimento funk carioca. Para tanto, foram utilizadas como fontes canções lançadas ao longo dos anos 1990, além de leis e projetos de leis que diziam respeito especificamente ao funk. Os conteúdos presentes no Jornal do Brasil neste mesmo período e que tinham como tema principal o funk carioca, por sua vez, são as fontes que norteiam e dão o tom deste livro. A análise das fontes selecionadas permitiu concluir que a perseguição levada a cabo pelo poder público contra as manifestações do funk carioca – sobretudo os bailes funk – era fruto da perseguição contra os adeptos do movimento, ou seja, contra os funkeiros. Estes, por sua vez, eram representados, em sua maioria, por jovens negros, pobres e favelados, revelando preconceitos de origem racial e social contra eles.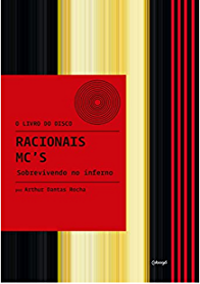 Rocha, Arthur Dantas. 2021. Racionais MC's : Sobrevivendo no inferno. Rio de Janeiro, RJ, Brasil: Cobogó. [ML3531 .R63 2021]
Os Racionais MC's, grupo de rap mais importante do Brasil, surgiram em 1988, e hoje, com mais de 30 anos de carreira, se afirmam como os maiores representantes do hip hop nacional. Formado por Mano Brown, Ice Blue, Edi Rock e KL Jay, suas músicas denunciam a desigualdade social e a lógica da necropolítica, com letras que trazem reflexões sobre a violência policial nas favelas, a negritude e a marginalização da população negra e pobre.

Neste Livro do disco, o pesquisador Arthur Dantas Rocha se inspira na cultura do sample para escrever um texto que reúne múltiplas vozes. A partir de um extenso estudo sobre a recepção dos Racionais MC's e seu Sobrevivendo no Inferno pela sociedade brasileira – mídia, intelectuais, academia e pares – o autor traça um amplo panorama polifônico para discutir a relevância estética, social e política do grupo, e de seu mais importante disco, discutindo ainda cada uma das canções do álbum. Lançado em 1997, o álbum vendeu mais de 500 mil cópias e foi um dos mais aclamados do rap nacional, tornando-se emblemático da virada para o século XXI no país, como uma "crônica da vida das classes subalternas do Brasil urbano".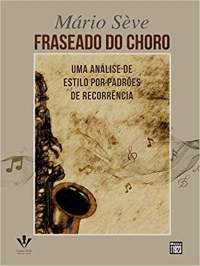 Sève, Mário. 2021. Fraseado do choro : uma análise de estilo por padrões de recorrência. São Paulo, SP: Irmãos Vitale Editores Ltda. [MT75 .S48 2021]
Este livro tem por objetivo abordar um dos mais importantes elementos estilísticos do choro: o seu fraseado musical. Conceitos de fraseado, articulação, ritmo, notação, regras, estilo e gênero formam o texto inicial. O livro apresenta propostas para análises de estilo e relativiza critérios para a classificação de gêneros no âmbito da música popular. Contextualizações históricas e musicológicas de gêneros musicais que influenciaram os chorões procuram explicar construções e transformações estilísticas em suas obras. Análises de padrões de recorrência formais, fraseológicos, melódicos, harmônicos, rítmicos e interpretativos mostram de que maneira se dá o fraseado musical no choro.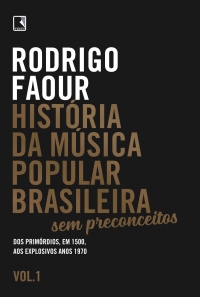 Faour, Rodrigo. 2021. História da música popular brasileira sem preconceitos. 1a. edição. Rio de Janeiro: Editora Record. [ML3487 .B7 F368 2021]
Depois da incursão pela História Sexual da MPB e pelas biografias de Angela Maria,  Dolores Duran, Cauby Peixoto e Claudette Soares, Rodrigo Faour, realiza um projeto ainda mais ambicioso: criar um panorama da música popular brasileira, do final do século XV, quando os portugueses aportaram no Brasil, aos dias atuais. Neste primeiro volume, o autor delimita seu estudo entre 1500, com a contribuição dos índigenas, portugueses e escravizados, e os conturbados anos 1970.

Em História da música popular brasileira (Vol. 1), Faour escreve sobre um país de extensão continenal e musicalmente riquíssimo e com culturas diversas. Ele faz ainda um estudo sobre as transformações da produção e do consumo de música popular em diversos momentos da história, contextualizando-as e relacionando-as às mudanças políticas, sociais e comportamentais pelos quais o Brasil passou, e passa....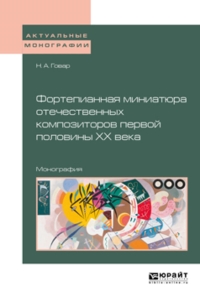 Govar, N. A. (Natalʹi︠a︡ Alekseevna). 2021. Fortepiannai︠a︡ miniati︠u︡ra otechestvennykh kompozitorov pervoĭ poloviny XX veka : monografii︠a︡. Moskva: I︠U︡raĭt. [ML734.5 .G68 2018]
Жанр фортепианной миниатюры рассматривается в данной монографии в весьма широкой плоскости как органичная часть некой культурной целостности. Представленный в ней материал отличается определенной избирательностью и во многом отражает спектр научно-исследовательских, исполнительских и педагогических интересов автора. Круг тем, получивший освещение в книге, затрагивает исторический контекст, важный для понимания путей развития фортепианной миниатюры XX века, наиболее актуальные художественно-эстетические тенденции времени, арсенал жанров фортепианной миниатюры, ее тематические предпочтения, а также некоторые аспекты исполнительской интерпретации.
Descriptions for each item provided by the publisher and/or from the catalogue description.
Keep reading for the complete list of new scores and eBooks.
Scores
eBooks