Check out this week's new CDs, books, and scores. You can view our weekly highlights in person in the New Arrivals display at the library. Or, jump to the complete list of new CDs, scores, books, and eBooks.
Weekly highlights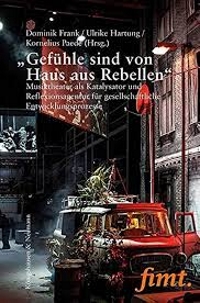 Frank, Dominik, Ulrike Hartung, and Kornelius Paede. 2020. "Gefühle sind von Haus aus Rebellen" : Musiktheater als Katalysator und Reflexionsagentur für gesellschaftliche Entwicklungsprozesse. Würzburg: Königshausen & Neumann. [ML 3918 .O64 G444 2020]
Die Oper hat mit immer schwerwiegenderen Legitimationsproblemen zu kämpfen: zu artifiziell, zu lebensfern und vor allem zu teuer. Dieser Krisendiskurs ist keineswegs ein rein ästhetischer, sondern überaus politisch. Gleichzeitig scheint sie gerade wegen ihrer inhärenten Künstlichkeit geeignet zu sein, intellektuelle Distanz zu nehmen und gleichzeitig emotionale Agitation zu betreiben. Ist Oper ein »Kraftwerk der Gefühle« – oder werden hier gar unter einem Material- und Aktualitätsparadigma Werke geschunden, um Distinktion zu betreiben? Die vermeintlichen Schwächen der Oper sind dabei womöglich ihre größten Stärken. Denn das Hybride und Synästhetische der Kunstform führt nicht nur zu institutionsgeschuldeter Behäbigkeit, sondern ermöglicht auch Arbeitsweisen, in denen neue Formen von Prozess und Kollaboration gedacht werden, die sich wiederum in entsprechenden politischen Gehalten reflektieren. Entsprechend sind in altehrwürdigen Häusern vermehrt Laboratorien eines emphatischen Musiktheaters entstanden, die sich weder vor der großen Operngeste noch vor tagespolitischer Aktualität scheuen.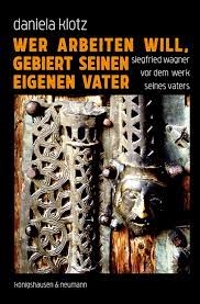 Klotz, Daniela. 2020. Wer arbeiten will, gebiert seinen eigenen Vater : Siegfried Wagner vor dem Werk seines Vaters. Würzburg: Königshausen & Neumann. [ML 410 .W24 K576 2020]
Der Zugang zum Werk Siegfried Wagners liegt in der Begegnung mit Oscar Wilde. Denn über dessen Ironie eröffnet sich im Werk Siegfried Wagners ein Paralleluniversum der Intertextualität. Opus 6, »Banadietrich«, auf den ersten Blick ein »Ring« im Taschenformat, erweist sich als Zugang zu dem Vexierspiel, das das Genie im Schatten (Peter P. Pachl) mit den Werken seines Vaters treibt. Gleich den Prismen eines Kaleidoskops bringt der Sohn das Gesamtkunstwerk des Vaters durch leichtes Kippen und kaum merkliches Drehen »zurück auf Anfang«. Und dieser Anfang ist nicht etwa eine der frühen Opern Richard Wagners, die als Nukleus einer der späteren gelten können, sondern ein Werk vor seiner Zeit: der »Faust«, der sich als wichtiges Element im Schaffen Richard Wagners erweist, vor allem aber als Dreh- und Angelpunkt im Kosmos Siegfried Wagners entpuppt. Es ist dies ein »Spiel«, dass allem Anschein nach alle Opern Siegfried Wagners durchzieht: Augenscheinlich jeweils »nur« auf ein Werk des Vaters bezogen, offenbaren alle Opern des jüngeren Wagner vielfältige Verweise aufeinander, auf den gesamten väterlichen Kanon und immer wieder auf den »Faust«. So stark ist Goethes Sogkraft, dass sogar persönliche Entscheidungen und die »Erinnerungen« Siegfried Wagners ihr unterliegen.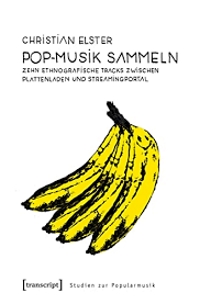 Elster, Christian. 2021. Pop-Musik sammeln : zehn ethnografische Tracks zwischen Plattenladen und Streamingportal. Bielefeld: Transcript. [ML 111.5 .E57 2021]
Streamingdienste, Vinylflohmärkte, die verstaubte CD-Sammlung – nie gab es so viele Möglichkeiten auf Musik zuzugreifen wie heute. In Form ethnografischer Tracks zeigt Christian Elster, was Musiksammeln zwischen Plattenladen und Onlinediensten für Menschen bedeuten kann. Hierfür beleuchtet er Praktiken, Artefakte, Orte, Diskurse und Figuren des Sammelns und zeigt auf, dass die technisch grundierte und sinnliche Praxis wesentlich auf das Selbstverständnis vieler Menschen Einfluss nimmt. Sammeln kann deshalb als Alltagskompetenz verstanden werden, die in physischen und digitalen Umgebungen individuelle Ordnungen und sinnstiftende Wegmarken schafft.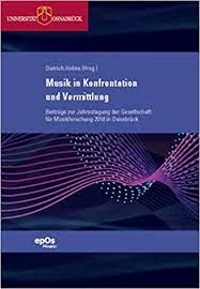 Helms, Dietrich. 2020. Musik in Konfrontation und Vermittlung : Beiträge zur Jahrestagung der Gesellschaft für Musikforschung 2018 in Osnabrück. Osnabrück: Electronic Publishing Osnabrück. [ML 3916 .G474 2018]
Musik kann vermitteln, Grenzen überschreiten und Menschen zusammenführen im gemeinsamen Tun und gemeinsamen Wissen. Musik kann aber auch Konfrontationen herbeiführen, provozieren, Mauern errichten und Menschen ausgrenzen. Das Wissen über Musik, über ihre Geschichte, ihre Wirkung und ihre Vermittlung, kann helfen, beide Formen der Funktionalisierung – Vereinnahmungen wie auch Diskriminierungen – zu erkennen, zu hinterfragen und gegebenenfalls zu überwinden. Dieser Band vereint Beiträge, die anlässlich der Jahrestagung der Gesellschaft für Musikforschung vom 25. bis 28. September 2018 in Osnabrück entstanden. Thematisch gruppieren sie sich überwiegend um zwei Hauptsymposien der Tagung: Der Erste Weltkrieg in der musikwissenschaftlichen Forschung sowie Musik der Welt und ihre musikpädagogischen Konsequenzen.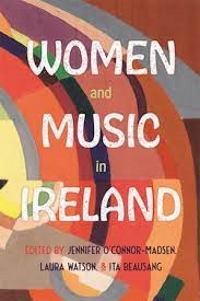 Watson, Laura, Ita Beausang, and Jennifer O`Connor-Madsen. 2022. Women and Music in Ireland. Woodbridge, Suffolk: The Boydell Press. [ML 287 .W66 2022]
In a story which spans several centuries, the book highlights representative composers and performers in classical music, Irish traditional music, and contemporary art music whose contributions have been marginalised in music narratives. As well as investigating the careers of public figures, this edited collection brings attention to women who engaged with and taught music in a variety of domestic settings. It also shines a spotlight on women who worked behind the scenes to build infrastructures such as festivals and educational institutions which remain at the heart of the country's musical life today. The book addresses and reconsiders ideas about the intersections of music, gender, and Irish society, including how the national emblem of the harp became recast as a symbol of Irish womanhood in the twentieth century.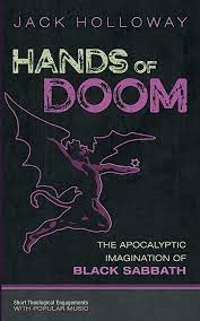 Holloway, Jack. 2022. Hands of Doom : the Apocalyptic Imagination of Black Sabbath. Eugene, Oregon: Cascade Books. [ML 421 .B57 H65 2022]
The world today is such a wicked place,"" Black Sabbath declared in 1969, when they recorded their debut album, set against a backdrop of war, assassinations, social unrest, and disillusionment. Cries for justice from the Civil Rights Movement, and for peace and love from the culture of ""flower power,"" had been met with violent backlash from the ruling class. It was on this stage that Black Sabbath entered--the heaviest rock band the world had yet known. This band was shaped by a working class upbringing in Birmingham, England, where actual metal defined the small town existence of factories, bombed-out buildings, and little else. With their music, Sabbath captured the dread and the burgeoning pessimism that was haunting the minds of young people in the sixties and seventies. Today, we are in a similar age of crisis: climate disaster, extreme inequality, police brutality, mass incarceration, and now, pandemic. Black Sabbath speaks to our time in ways few other bands can. They deploy apocalyptic imagery to capture the destruction of the planet by despotic superpowers, and they pronounce a prophetic indictment on agents of injustice. In this book, theologian and cultural critic Jack Holloway explores Black Sabbath's music and lyrics, and what they had to say to their historical context. From this analysis, Holloway outlines a Black Sabbath theology which carries significant import for modern life, reminding us of our deep responsibility to transform a broken world.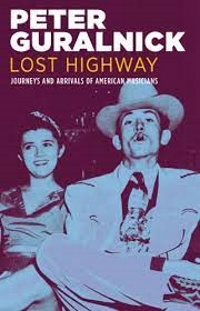 Guralnick, Peter. 1999. Lost Highway : Journeys & Arrivals of American Musicians. Boston: Little, Brown. [ML 394 .G95 1999]
This masterful explorationof American roots music–country, rockabilly, and the blues–spotlights the artists who created a distinctly American sound, including Ernest Tubb, Bobby "Blue" Bland, Elvis Presley, Merle Haggard, and Sleepy LaBeef. In incisive portraits based on searching interviews with these legendary performers, Peter Guralnick captures the boundless passion that drove these men to music-making and that kept them determinedly, and sometimes almost desperately, on the road.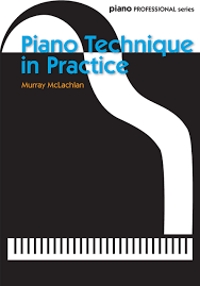 McLachlan, Murray, and Mark Goddard. 2015. Piano Technique in Practice. London: Faber Music Ltd. [MT 220 .M478 2015]
Piano Technique in Practice is for all pianists and piano teachers. Following on from Murray McLachlan's widely acclaimed first book, The Foundations of Technique, this informative text offers a more detailed guide to piano playing for pianists at every level.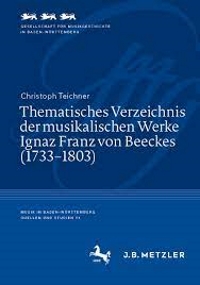 Teichner, Christoph. 2020. Thematisches Verzeichnis der musikalischen Werke Ignaz Franz von Beeckes (1733-1803). Berlin: J.B. Metzler. [ML 134 .B395 A375 2020]
Ignaz Franz von Beecke (1733-1803), pianist and composer celebrated by his contemporaries, served the princely house of Oettingen-Wallerstein throughout his life. Born in Wimpfen/Neckar, Beecke, as director of court music, formed the Wallerstein court orchestra into one of the leading orchestras of the 18th century. Numerous trips took him to the musical centers of Europe (Paris, Vienna, Mannheim), where he performed his Singspiels, symphonies and piano concertos. A piano duel with WA Mozart in Munich, from which Beecke emerged victorious in 1775, was spectacular. - The thematic catalog (with meaningful musical examples) lists all 334 musical works and covers Beecke's entire oeuvre for the first time. Also included is a biographical sketch based on 425 letters found and other documents.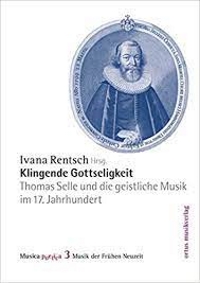 Rentsch, Ivana, and Friederike Janott. 2020. Hamburger Gottseligkeit : Thomas Selle und die geistliche Musik im 17. Jahrhundert. Beeskow: Ortus Musikverlag. [ML 410 .S439 H3]
Thomas Selle besetzte ab 1641 das Hamburger Kantorat und damit eine der attraktivsten Positionen, die das norddeutsche Musikleben im Zeitalter des Dreißigjährigen Krieges zu bieten hatte. Dass die uneinnehmbare Hansestadt nicht nur zahlreiche illustre Emigranten anzog, sondern auch über eine stetig wachsende Schicht wohlhabender Bürger verfügte, bildete zusammen mit einer überwiegend aufgeschlossenen Geistlichkeit die ideale Voraussetzung für ein florierendes kulturelles Leben. Selle sollte die hohen Erwartungen nicht enttäuschen: Seine Werke zeugen gleichermaßen vom künstlerischen Geschmack des Publikums wie von den kompositorischen Ambitionen des Kantors als musikalischer Hauptperson. Der Sammelband folgt der Absicht, eine möglichst große thematische Bandbreite abzustecken. Der Bogen reicht von übergreifenden Aspekten der theoretischen Verortung, dem ästhetischen und liturgischen Spielraum geistlicher Musik in Hamburg über analytische Zugriffe auf Selles Concerto-Praxis und deren Verhältnis zu italienischen oder älteren Modellen bis hin zum Vergleich zwischen Hamburger Johanneum und Leipziger Thomasschule sowie den Fragen nach musikalischen Hinterlassenschaften und frühneuzeitlichen Musikernetzwerken.
Descriptions for each item provided by the publisher and/or from the catalogue description.
Keep reading for the complete list of new CDs, scores, books, and eBooks.
CDs
Scores
Books
eBooks