Check out this week's new CDs, books, and scores. View our weekly highlights in the New Arrivals display at the library. Jump to the complete list of new CDs, scores, books, and eBooks.
Weekly highlights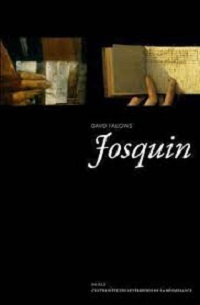 Fallows, David. 2020. Josquin. Turnhout: Brepols. [ML410 .J815 F35 2020]
A great deal of research over the past forty years has had an impact Josquin's music: most of his works are now available in high-quality recordings that make them easily familiar to any researcher, and the main sources have been far more thoroughly explored. Furthermore, new biographical findings, particularly within the last ten years, have shown that much of what was written about Josquin's life was based on documents that concerned other people entirely. For example, Josquin's birthdate has been advanced by more than ten years, with major consequences for our view not only of his music and its chronology, but also of most other music of the time. This book assembles and assesses the newly available material. It builds the main works into the narrative of Josquin's life. Appendices include a critical listing of the documents about Josquin, a summary of later literary references to him, summaries of the relevant information about the main figures mentioned in the book, a list of other musicians at the time named 'Josquin' or something similar (35 of them!), and much more.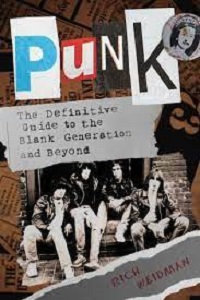 Weidman, Rich. 2022. Punk : the Definitive Guide to the Blank Generation and Beyond. Essex, Connecticut: Backbeat Books. [ML3534 .W433 2022]
Punk: The Definitive Guide to the Blank Generation and Beyond serves as the most exhaustive treatment of the punk movement-not only its music, which Rich Weidman exhaustively details from the proto-punk bands of the 1960s through the pop punk of the 1990s and 2000s to today's punk scene-but also the significant impact of punk on culture itself in terms of attitude, ideology, fashion and style, film, literature, and art.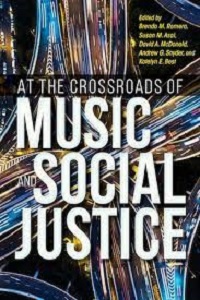 Romero, Brenda M., Susan Miyo Asai, David A. McDonald, Andrew Snyder, and Katelyn E. Best. 2022. At the Crossroads of Music and Social Justice. Bloomington, Indiana: Indiana University Press. [ML3799.2 .A78 2022]
Music is powerful and transformational, but can it spur actual social change? A powerful collection of essays, At the Crossroads of Music and Social Justice studies the meaning of music within a community to investigate the intersections of sound and race, ethnicity, religion, gender, sexual orientation, and differing abilities. Ethnographic work from a range of theoretical frameworks uncovers and analyzes the successes and limitations of music's efficacies in resolving conflicts, easing tensions, reconciling groups, promoting unity, and healing communities. This volume is rooted in the Crossroads Section for Difference and Representation of the Society for Ethnomusicology, whose mandate is to address issues of diversity, difference, and underrepresentation in the society and its members' professional spheres. Activist scholars who contribute to this volume illuminate possible pathways and directions to support musical diversity and representation. At the Crossroads of Music and Social Justice is an excellent resource for readers interested in real-world examples of how folklore, ethnomusicology, and activism can, together, create a more just and inclusive world.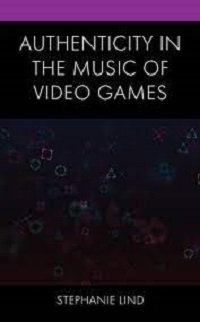 Lind, Stephanie. 2023. Authenticity in the Music of Video Games. Lanham: Lexington Books. [ML3540.7 .L55 2023]
Lind explores gamers' relationship to the concept of authenticity, from historical realism to the structuring of expectations and its resulting impact on emotional engagement. The result is a complex web of interactions between sound and the visuals, story, and mechanics of the game.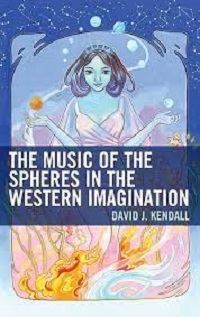 Kendall, David J. 2022. The Music of the Spheres in the Western Imagination. Lanham: Lexington Books. [ML3849 .K47 2022]
This book describes various Western musical ecologies of the cosmos developed from the ancient world to the present, ecologies that seek to define the creation and preservation of the universe through musical principles. The author explores centuries of musical treatises, hymns, and Western fiction.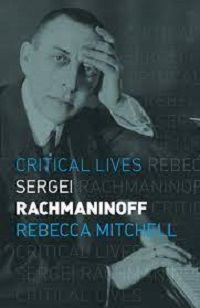 Mitchell, Rebecca. 2022. Sergei Rachmaninoff. London: Reaktion Books. [ML410 .R12 M58 2022]
Drawing extensively on Russian-language sources, a concise yet comprehensive survey of the life and work of one of classical music's great composers. Unquestionably one of the most popular composers of classical music, Sergei Rachmaninoff has not always been so admired by critics. Detractors have long perceived Rachmaninoff as part of an outdated Romantic tradition from a bygone Russian world, aloof from the modernist experimentation of more innovative contemporaries such as Igor Stravinsky. In this new assessment, Rebecca Mitchell resituates Rachmaninoff in the context of his time, bringing together the composer and his music within the remarkably dynamic era in which he lived and worked. Both in Russia and later in America, Rachmaninoff and his music were profoundly modern expressions of life in tune with an uncertain world. This concise yet comprehensive biography will interest general readers as well as those more familiar with this giant of Russian classical music.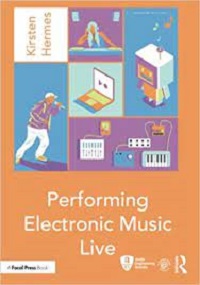 Hermes, Kirsten. 2022. Performing Electronic Music Live. Abingdon, Oxon: Routledge, Taylor & Francis Group. [MT724 .H47 2022]
This comprehensive book lays out the conceptual approaches, tools and techniques for performing electronic music, from DJing, DAWs, MIDI controllers, traditional instruments, live sound design, hardware setups, custom software and hardware to live visuals, venue acoustics and live show promotion. Via the companion website, performingelectronicmusic.live, readers can expand on their knowledge with hands-on video tutorials for each chapter. Live music is exhilarating - it creates life-changing experiences and powerful emotions. Technology can make us feel empowered, enable us to overcome limiting beliefs and allow us to achieve a high level of creative expression, no matter our background or skillset. The options are virtually endless, ranging from laptop setups to new instruments built from scratch. Through case studies and contrasting tutorials by successful artists, Kirsten Hermes guides us through many different ways in which you can create memorable experiences on stage. This is backed up with historic and scientific facts ranging from psychology to marketing. The book also features interviews with highly accomplished musicians and practitioners, including superstar trance DJ Alex M.O.R.P.H., BBC Audio R&D and live show designer Laura Escudé, who has worked with Kanye West, Missy Elliot and Herby Hancock. The book is not a dogmatic to-do list, but rather, it explores many contrasting examples of successful approaches, to help you turn overwhelm into inspiration. Whether you are a student, hobby producer or a more advanced performer, this book gives you a comprehensive overview over your options. Students of music production courses, particularly at postgraduate level, but also researchers in the field of creative-focused performance technology will find this to be a useful, all-encompassing resource, with many starting points and resources for a deeper creative exploration.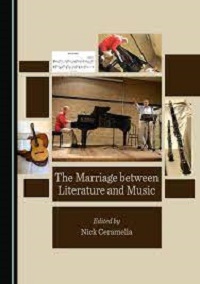 Ceramella, Nick. 2022. The Marriage Between Literature and Music. Newcastle upon Tyne: Cambridge Scholars Publishing. [ML3849 .M37 2022]
Music and literature have often been interconnected through the centuries. This is an intellectual and spiritual marriage between two artistic worlds, which are both part of a creative system that lends voice to one another. As this book argues, while music is one single form of expression, literature can be expressed in the form of either poetry or prose. However, they find their apotheosis, their most natural relationship, when poetry is set to music, especially when it is lyrical and has similar phrasing and rhythms to music. The book, thus, shows that music offers an additional perspective to literature, while the latter gives words to the feelings that the former arouses. As such, though both can stand alone, if put together, they form a complementary entity that everybody can enjoy.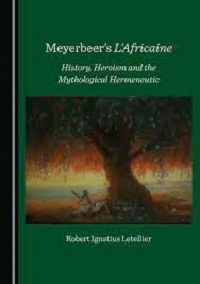 Letellier, Robert Ignatius. 2022. Meyerbeer's L'Africaine : History, Heroism and the Mythological Hermeneutic. Newcastle upon Tyne: Cambridge Scholars Publishing. [ML410 .M61 L48 2022]
Vasco de Gama was the last collaboration between Giacomo Meyerbeer and Eugène Scribe, the famous playwright and librettist. The work had intermittently preoccupied them both since 1838, and it had become legendary as L'Africaine years before its completion. The first version of the opera became known as the Vecchia Africana of the long years of Meyerbeer's anxious labours on this most troublesome of his operas An adoring public gave Meyerbeer a tumultuous posthumous accolade on the première of L'Africaine on 28 April 1865, a year after his death. This opera which involved Meyerbeer and Scribe's creative energies for so long includes in one last and splendid achievement many of the elements that had hitherto featured in varying degrees in all their other joint creations. Both composer and librettist were men of immense imagination and genius. Between them, they created four works of great power and beauty that radically affected the history of opera. This study examines the origins and creation of the opera, its dramaturgy and musical style, the history of its astonishing reception around the world until the 1930s, its revival in more recent times. One of the special features of the book is the collection of iconography associated with the work, and its interpretation by many of the greatest singers of the Golden Age of opera. This imagery and many musical examples help to bring out the themes explored in this work more fully.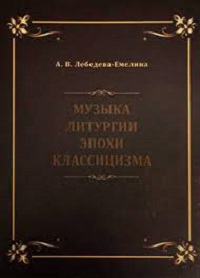 Lebedeva-Emelina, A. V. (Antonina Viktorovna), E. I︠U︡. Antonenko, and K. V. Pasternak. 2022. Muzyka liturgii ėpokhi klassit︠s︡izma : notnye publikat︠s︡ii i issledovanii︠a︡. Moskva: Izdatelʹskiĭ dom I︠A︡SK. [ML2937 .L43 2022]
В настоящем издании впервые в полном виде собрано музыкально-литургическое наследие эпохи классицизма — с 1760‑х до 1825 года, с начала царствования Екатерины II до конца правления Александра I. В этот период в России возникла профессиональная композиторская школа, духовная музыка достигла классического совершенства. Нотный текст публикуемых произведений базируется на источниках рубежа XVIII–XIX веков — изданиях и манускриптах, хранящихся в крупнейших архивах Москвы, Петербурга и Киева. В развернутых текстологических комментариях приводится свод рукописных и печатных источников. В научный обиход впервые вводятся многие иллюстративные материалы. Благодаря данной публикации, духовая музыка классицизма обогащается яркими, талантливыми сочинениями, которые могут быть использованы за богослужением и в концертной практике. Издание предназначено для профессионалов — певчих, регентов, хористов, хормейстеров, историков и музыковедов — и всех любителей русской духовной музыкальной культуры.
Descriptions for each item provided by the publisher and/or from the catalogue description.
Keep reading for the complete list of new CDs, scores, books, and eBooks.
CDs
Scores
Books
eBooks