Check out this week's new CDs, books, and scores. View our weekly highlights in the New Arrivals display at the library. Jump to the complete list of new scores, books, eBooks, CDs, and newly-catalogued LPs.
Weekly highlights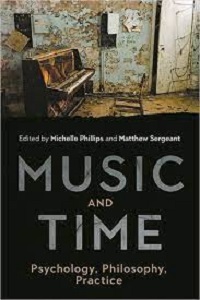 Phillips, Michelle, and Matthew Sergeant. 2022. Music and Time : Psychology, Philosophy, Practice. Edited by Michelle Phillips and Matthew Sergeant. Suffolk, UK: The Boydell Press. [ML3830 .M87 2022]
For the experimental psychologist, the experience of time during music listening or performance is something that may be studied empirically. For philosophers, fundamental questions of time continue to be the subject of ongoing debate in philosophy: is time linear? What are past, present and future? What is duration and what makes a perceptual present, or moment? For the performer, musical time can exist as a subjective vehicle of expression. Although any of the three could be chosen as a starting point, the order presented in the text's structure offers a journey from empiricism to application, via contemplation. This volume deals with the complex relationship between music and time. It presents a staunchly interdisciplinary perspective defined by the terms Psychology, Philosophy and Practice. The text is divided into sections concerning "experience", "enactment" and "meaning", as points of intersection between the three primary methodologies of the title. As such, this is a book for the scholar, the student of music, and the interested reader. For the scholar, it offers new interconnections and comparisons. For the student, its pluralistic approach presents the most comprehensive overview available to date regarding the topic. For the interested reader, the volume offers answers to questions which concern us as listeners and audiences at concerts, gigs, and festivals.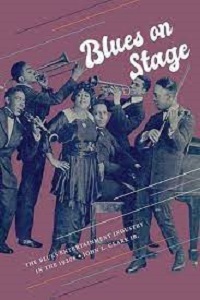 Clark, John L. 2023. Blues on Stage : the Blues Entertainment Industry in the 1920s. Albany, NY: Excelsior Editions, an imprint of State University of New York Press. [ML3521 .C54 2023]
Blues on Stage presents a new history of the development of the "Classic Blues" of the 1920s, offering a comprehensive review of various Black singers who recorded and were influential in this era, including Bessie Smith, Trixie Smith, Butterbeans and Susie, and Ma Rainey. The business of music recording and publishing, including songwriting and touring theater circuits, is explored as part of the narrative of how and when these artists became nationally popular. The most highly regarded singers of this period were not folk or rural artists, but rather highly experienced stage professionals whose careers often extended two decades or more prior to their first recordings. These artists, some of the most famous acts on the Black vaudeville and tent show circuits, were preceded in the recording studio by many cabaret and nightclub singers with a different entertainment perspective and were followed by artists who came from a more rural, less professional background. For anyone interested in the roots of jazz and blues, Blues on Stage offers a new and comprehensive introduction to the development of this American musical style.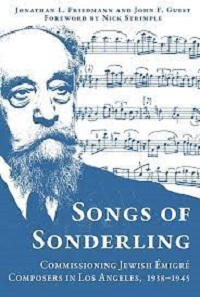 Friedmann, Jonathan L., John F. Guest, and John F. (John Faulkner) Guest. 2021. Songs of Sonderling : Commissioning Jewish Émigré Composers in Los Angeles, 1938-1945. Lubbock, Texas: Texas Tech University Press. [ML410 .S687198 F75 2021]
Songs of Sonderling is the story of Jacob Sonderling's unique contributions to Jewish liturgical music. Rabbi Sonderling was many things: a descendant of Chassidic rebbes, a rationalist, a Reform rabbi, a Zionist, an army chaplain, a celebrated orator, an artistic soul. From his early career at the Hamburg Temple and German Army service in World War I, to his wandering years in the Eastern United States and founding of the Society for Jewish Culture-Fairfax Temple in Los Angeles, Sonderling cultivated a unique aesthetic vision of Judaism, a "five-sense appeal." Jonathan L. Friedmann and John F. Guest document and analyze Sonderling's experience and expression of Judaism through music. Rabbi Sonderling's vision yielded liturgical commissions from exiled Viennese Jewish composers who arrived in Los Angeles in the 1930s and 1940s. Through these musical settings, activities at the Fairfax Temple, and involvement with the Los Angeles campus of the Hebrew Union College-Jewish Institute of Religion, Sonderling made an indelible mark on the city's Jewish community and the wider musical world. Songs of Sonderling focuses on the commissions Sonderling made from 1938 to 1945: Ernst Toch's Cantata of the Bitter Herbs, Arnold Schoenberg's Kol Nidre, Erich Wolfgang Korngold's A Passover Psalm and Prayer, and Eric Zeisl's Requiem Ebraico. Through musical analyses and an examination of Sonderling's career in Los Angeles, Friedmann and Guest contribute to the study of Jewish liturgical music, to Jewish history in the American West, to Jewish identity in the twentieth century, and to Jewish diaspora writ large.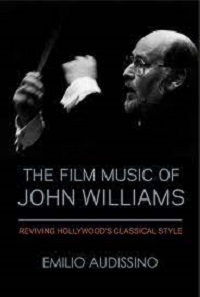 Audissino, Emilio. 2021. The Film Music of John Williams : Reviving Hollywood's Classical Style. Second edition. Madison, Wisconsin: The University of Wisconsin Press. [ML410 .W71335 A83 2021]
From the triumphant "Main Title" in Star Wars to the ominous bass line of Jaws, John Williams has penned some of the most unforgettable film scores—while netting more than fifty Academy Award nominations. This updated and revised edition of Emilio Audissino's groundbreaking volume takes stock of Williams's creative process and achievements in music composition, including the most recent sequels in the film franchises that made him famous. Audissino discusses Williams's unique approach to writing by examining his neoclassical style in context, demonstrating how he revived and revised classical Hollywood music. This volume details Williams's lasting impact on the industry and cements his legacy as one of the most important composers in movie history. A must for fans and film-music lovers alike.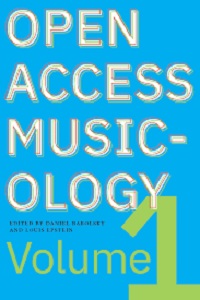 Barolsky, Daniel, and Louis K. Epstein. 2020. Open Access Musicology. Volume One. Edited by Daniel Barolsky and Louis K. Epstein. Amherst, Massachusetts: Lever Press. [ML160 .O64 2020]
Open Access Musicology is a collection of essays, written in an accessible style and with a focus on modes of inquiry rather than content coverage. Our authors draw from their experience as scholars but also as teachers. They have been asked to describe why they became musicologists in the first place and how their individual paths led to the topics they explore and the questions they pose.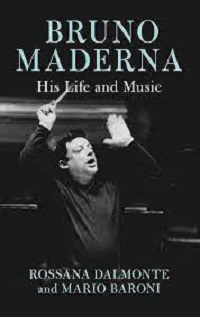 Dalmonte, Rossana, Mario Baroni, and Michael D. Webb. 2022. Bruno Maderna : His Life and Music. Translated by Michael D. Webb. Lanham: Rowman & Littlefield. [ML410 .M174 D3513 2022]
Bruno Maderna, one of the most influential composers in the 20th century and a formidable conductor, was the oldest of a notable group of Italian composers who began their careers shortly before the Second World War. Many details of this biography are based on his correspondences and reports of his engagements across the world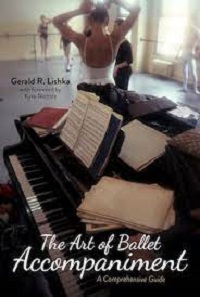 Lishka, Gerald R. 2022. The Art of Ballet Accompaniment : a Comprehensive Guide. Bloomington, Indiana: Indiana University Press. [MT68 .L47 2022]
Revised and expanded, this new edition of The Art of Ballet Accompaniment: A Comprehensive Guide addresses every imaginable topic and challenge that a ballet accompanist-whether a novice or a more experienced practitioner-might encounter. More than just a facile anthology of accessible music, this inclusive guide details all aspects of playing for ballet, including a complete manual for editing piano literature to accompany ballet technique classes. Author Gerald R. Lishka encourages ballet accompanists to be imaginative, creative, independent artists who can also communicate effectively with dance instructors. In addition, he clarifies the necessary balance between the use of existing musical scores and the art of improvisation. Featuring a new foreword by Kyra Nichols, an expanded section on Lishka's personal philosophy, an updated section on barre from Alison Hennessey, and over 100 music examples, The Art of Ballet Accompaniment offers invaluable advice for all levels of pianists and accompanists.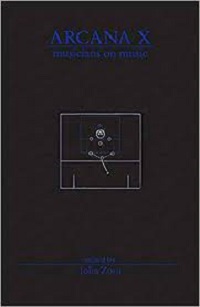 Zorn, John. 2021. Arcana X : Musicians on Music. Edited by John Zorn. New York, NY: Hips Road. [ML55 .A67 2021]
Initiated in 1997 and now in its tenth and final installment, John Zorn's acclaimed Arcana series is a major source of new music theory and practice in the 21st century. Illuminating directly via the personal vision and experience of the practitioners themselves, who experience music not from a cool, safe distance, but from the white-hot center of the creative crucible itself, Arcana elucidates through essays, manifestos, scores, interviews, notebooks and critical papers. Over 25 years the ten volumes of Arcana have presented the writings of over 300 of the most extraordinary musical thinkers of our time, who address composing, performing, improvising, touring, collaborating, living and thinking about music from diverse, refreshing and often surprising perspectives. Technical, philosophical, political, artistic and mystical in nature, these writings provide direct connections to the creative processes and hidden stratagems of musicians from the worlds of classical, rock, jazz, film soundtrack, improvised music and more. Contributors include: Susan Alcorn, Oren Ambarchi, Ran Blake, Peter Blegvad, Tyondai Braxton, Patricia Brennan, John Butcher, Ben Coniguliaro, Amir Elsaffar, Kenny Grohowski, Tom Guralnick, Mark Helias, David Hertzberg, Stefan Jackiw, Dan Kaufman, Derek Keller, Richard Kessler, Pauline Kim, Ulrich Krieger, Hannah Lash, Dan Lippel, Annea Lockwood, Dave Lombardo, Charlie Looker, Thomas Morgan, Stephen O'Malley, Laura Ortman, Alex Paxton, Alexandria Smith, Conrad Tao, Pat Thomas, Henry Threadgill, Anna Webber, Fay Victor, Christian Wolff and Miguel Zenón.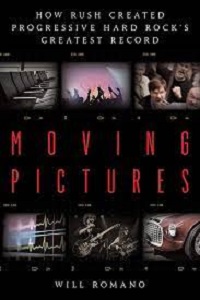 Romano, Will. 2022. Moving Pictures : How Rush Created Progressive Hard Rock's Greatest Record. Essex, Connecticut: Backbeat Books. [ML421 .R87 M65 2022]
Rush's record Moving Pictures changed everything: the trajectory of the band's career and its impact on a growing legion of fans. Now, forty years after its release, Will Romano investigates the how and why behind this landmark album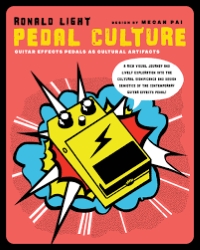 Light, Ronald, Megan Pai, and Jeff Spirer. 2022. Pedal Culture : Guitar Effects Pedals as Cultural Artifacts. Guilford, Connecticut: Backbeat Books. [ML462 .S282 S36 2022]
The catalog of the 2017 exhibition "PedalCulture : The Guitar Effects Pedal as Cultural Artifact" illustrates the cultural significance and visual design semiotics of contemporary guitar effects pedals. The text shows the pedals' application as objects of power transference from on high and explores their symbolic associations with select objects, ideas, and texts from popular arts and culture.
Descriptions for each item provided by the publisher and/or from the catalogue description.
Keep reading for the complete list of new scores, books, and eBooks, CDs, and Newly-catalogued LPs.
Scores
Books
eBooks
CDs
LPs