In September 2021, the Performance Collection is celebrating its 30th anniversary. You can read more about its history in Karen's article "The chains come off: A brief history of the Performance Collection, Music Library, University of Toronto," written for the Ontario Library Association (OLA) magazine Open Shelf.
---
When your music was delivered to your first rehearsal in early September, a new sign out procedure was initiated due to COVID-19 space restrictions. Alas, there was not enough space in the Performance Collection to accommodate large line-ups of students. Returning 3rd and 4th year students: did you miss the line-ups outside Rm. E016? I think not, but then maybe you missed chatting with your fellow students as you waited your turn. A shout-out to all our conductors who gave up rehearsal time to sign out music!
For all new students, welcome to the Music Library.
The Performance Collection is on the lower lever of the Music Library in Rm. E016. It is a special collection within the library. We have a full score and parts to hundreds of band, orchestral, choral, and jazz sets. We also have some easy level band and jazz sets and method books. We are only open in the afternoons (1:00-4:30pm) and closed on weekends. You will need your TCard to sign out music. The collection is searchable on the Music Library website.
Whether you sing in one of our great choirs (MacMillan Singers, Chamber Choir, S/A Chorus or T/B Chorus) or play in one of our large ensembles (UTSO, Wind Ensemble, Wind Symphony, Contemporary Music Ensemble, Jazz group), have you ever mislaid a part, discovered a missing page, or left behind a music folder at your home many miles away by TTC or Go train? Do any of these scenarios sound familiar to you? As musicians, although we might not want to admit it, we may have found ourselves in this tight spot. Each ensemble has a student manager but if they do not have the part do not give up hope. The place to look for your music is in the Performance Collection, open daily 1:00-4:30pm before your afternoon rehearsal that starts at 3:10pm.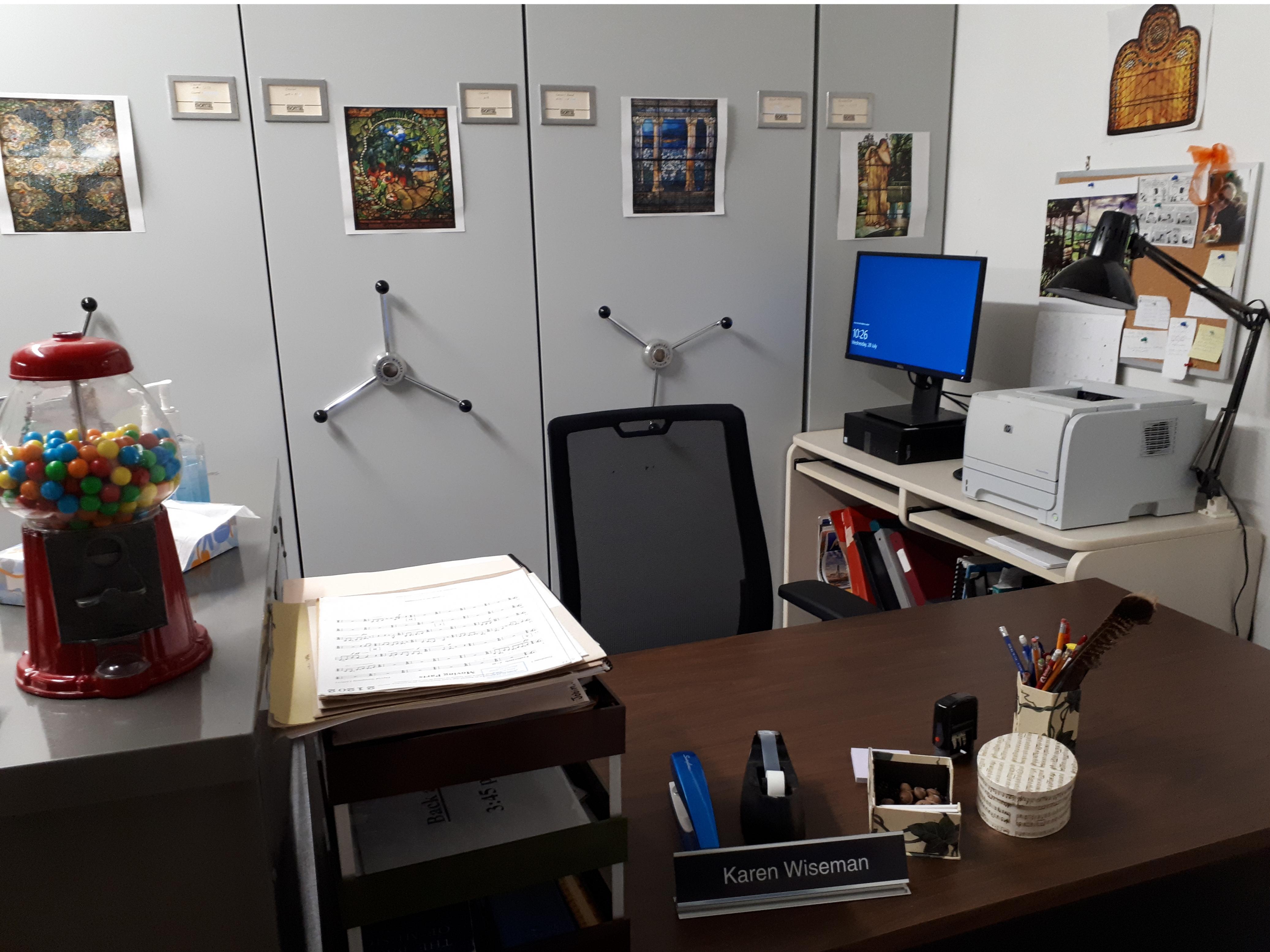 We can also assist you with other music questions: 
Do you need an excerpt, a part for an audition or course assignment?
Have you found the full score in the main Music Library, but would you like to look at the parts?
Have you searched the library's website for a piece and cannot find it? Maybe it is a rental or available only from the composer. 
As a conductor yourself, are you choosing repertoire for a concert?
Are you looking for a particular edition of a piece or want to compare editions? For example, shall we use the Novello edition edited by Watkin Shaw or the earlier Prout edition of Handel's Messiah?
Do you want to look at your part for an outside ensemble, so you are not sight reading at the first rehearsal?
If you cannot decide how to bow the string parts for your orchestra, we have reliable bowings in many of our orchestral sets.
Do you know about the free downloads available on IMSLP (International Music Score Library Project) and CPDL (Choral Public Domain Library)?
For the last 30 years we have been assisting students to find their ensemble music in one convenient location. Call us or drop by today!
---
You can reach Karen Wiseman by phone (416-978-0575) or email (k.wiseman@utoronto.ca).