This collection includes musical scores for the major ensembles (choral, band, jazz, orchestral) and music education.
Hours & Location
Music Library Room E016 (lower level)
Regular hours are Mon-Fri: 1:00pm - 4:30pm (September-April)
Summer hours as posted
This collection supports the programs of the Faculty of Music ensembles and its circulation is limited to current students/faculty/staff, as well as members of Choirs Ontario and Orchestras Canada. Items are only circulated during business hours. Outside of business hours, items can be returned to the Music Library service desk.
Simple search tips
At the LibrarySearch page, enter your search term(s) into the search box. Below the search box the options to search "Everything" and "Catalogue" appear.  Click on the "Catalogue" option.

For subsequent searches, or when you are already at a search result page, the search box has the option to limit by "catalogue" and "library" beside the search box.
Select "Catalogue" and then "Music Library"

Either of these  options will bring up a search results list.
On the left of the screen you will see "Active filters". 
Look down for "Locations in the library". (1) 
In the "Locations in the library" section you will see a list of locations (you may have to select "Show More" to see all options).
Select "Music Library - Performance Collection". (2)
Press the "APPLY FILTERS" button that appears at the bottom. (3)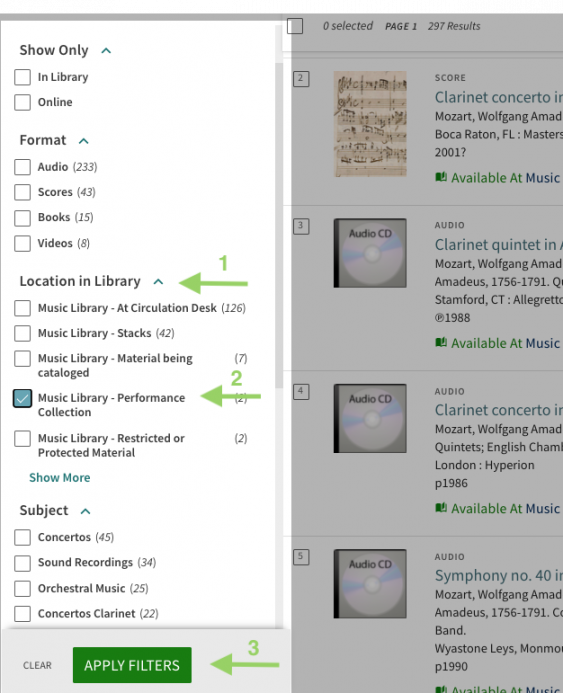 That will filter down your results to items from the Performance Collection. You will notice beside each item there is a simple description (title, author, publisher) and below that location and call number. 

The call numbers for items in the Performance Collection are all prefaced with "PECOLL". After that, there is a series of 2 letters. 
Choral music is "PECOLL-CC".
Concert band is "PECOLL-CB".
Jazz is "PECOLL-JZ".
Music education is "PECOLL-ME",
Orchestral collection is "PECOLL-OC" 
You can further refine these results with more filters in the left column, subject or publication date for example.
---
Also available in the Music Library:
Free sources of music in the public domain: