Recordings are often listed in a separate discography rather than in a bibliography (see CMS 14.262). If the conductor or performer is the focus of the recording rather than the composer, then they may be listed in a bibliography, as appropriate.
 
Pink Floyd. Atom Heart Mother. Capitol CDP 7 46381 2, 1990, compact disc. Originally released in 1970.
 
Citations for videos will vary according to the nature of the material and should include any facts relevant to identifying the item. Note that indexed scenes are treated as chapters and cited by title or by number.
 
Handel, George Frideric. Admeto: re di tessaglia. Händelfestspielorchester Halle. Howard Arman. With Matthias Rexroth, et al. Leipzig: Arthaus Musik, 2006. 2 DVDs, 196 min.
 
---
CDs and LPs often have liner notes in or on their containers, providing information such as lyrics, biographies, or analyses of the relevant works. These should be cited as seen below. The author of the liner notes should be cited appropriately, whether it be the recording artist, a scholar, etc.
Footnote Examples:


Bibliography Examples: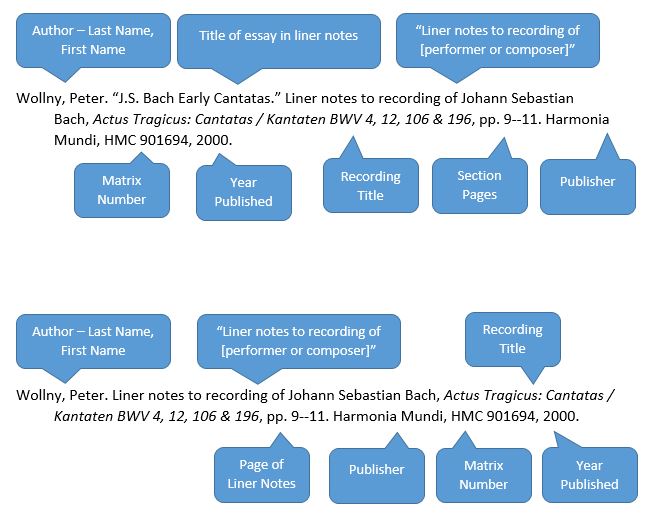 ---
Citations of online streaming media that duplicates content of previously recorded material should include documentation of that performance as outlined above. If no date is available, include the date you accessed the material. For material that is posted directly to the Internet, gather the creator, title, and other information directly from the material. In both cases, include information about the source type and length. It is never enough to only include a URL or file name. (See CMS 14.267)
Examples:
 
Mozart, Wolfgang Amadeus. "Don Giovanni." Berlin Philharmonic Orchestra. Daniel Barenboim. With Nicholas Carthy, Lella Cuberli, Ferruccio Furlanetto, Uwe Heilmann, Waltraud Meier, Michele Pertusi, et al. Erato. Accessed September 18, 2015. http://utoronto-naxosmusiclibrary-com.myaccess.library.utoronto.ca/streamw.asp?ver=2.0&s=37310%2Futorontopaid11%2F23117.