Theses and dissertations are treated similar to books except that the title is in quotation marks rather than italics, and citations include information on the kind of thesis and academic institution. Include a URL for documents consulted online. If you accessed the work through a commercial database like Proquest Dissertations, include this information in the citation along with an identification number if it has one (see CMS 14.215).
Examples:
 
 
Neufeldt, Timothy. "The Social and Political Aspects of the Pastoral Mode in Musico-Dramatic Works, London, 1695-1728." PhD diss., University of Toronto, 2006. ProQuest (NR15889).
 
---
The term "manuscript" generally refers to various types of unpublished documents. In music-related studies, this is often either an author's text, possibly on its way to being published, or a historical document like the Old Hall Manuscript. For documents of the former type, including books that are not under contract, follow CMS 14.216. Entries begin with the author's name. Titles of works appear in quotation marks and include the words "Unpublished manuscript" along with the date of the version, if available. Conclude with an indication of the format.
Example: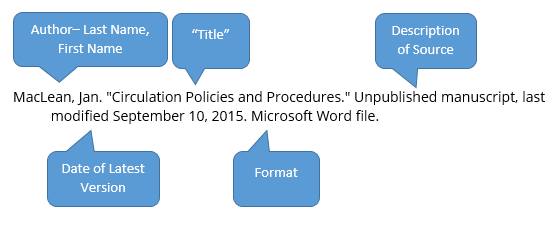 If the manuscript is under contract to be published but the publication date is not yet known, use "forthcoming" in place of the date. Page numbers should be given if known. (See: CMS 14.146)
Examples:
Spinoza, Walter Erlkönig. "Magical Music and Mages in Musicals." In Spurious Book Name, edited by Ellen Editor. Place: Publisher, forthcoming.
 
For older, historical manuscripts, full identification includes the title and date of the item, name of the collection, series title (if it has one) and name of the depository. Works can either be cited in their entirety or by individual item and author, as appropriate. If the manuscript collection is consulted online, include the URL or DOI (digital object identifier) as well. See CMS 14.230 for more information.
Examples:
 
Offenbach, Jacques. "La vie parisienne." MS 44 Of2v. Juilliard Manuscript Collection. http://juilliardmanuscriptcollection.org/manuscript/la-vie-parisienne/.